Can you smell that in the air coming off the coast of Lake Michigan? No? That's the smell of the final Major of the year. And it has the potential to be a dandy. So many story lines. So many possibilities. So many bunkers! 
There are a few prevailing story lines that should be on everyone's radar as we head into the opening rounds of Glory's Last Shot (sounds like closing time at a bar, right?) The Season's Final Major (boooorrrring) This is Major (eh, ok, let's go with that). Here's the PGA Championship preview.
The Course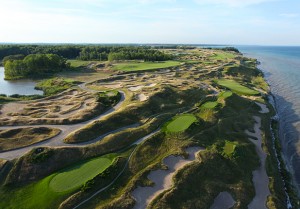 Having recently traveled to Wisconsin, I can say it's a lovely state and should be a great Major host once again. Having said that, the least friendly thing you'll find in Wisconsin is of course from the mind of Pete Dye. By now, if you aren't a golf architecture lover you still probably know Pete Dye. That being said Whistling Straits is turning into one of the greatest championship golf venues in the country. It has hosted the 2004 and 2010 PGA Championships and the 2007 U.S. Senior Open, and it is the future site of the 2020 Ryder Cup. Both the 2004 and 2010 PGA Championships ended in a playoff and this year could be no different with a very strong field. The Straits course plays to a Par 72 and is loooong; stretching to almost 7,800 yards. The difference here vs. Chambers Bay is moderately less elevation change. Nestled along a two-mile stretch of Lake Michigan, the land previously was home to an abandoned airfield called Camp Haven. In order to create the links-like environment Pete and Alice had ~13,000 truckloads of sand hauled onto the property. The most noteworthy aspect of the course is probably the bunkering. Namely all ~1,000 of them.

This wouldn't be an issue if not for Dustin Johnson's miscue at the 2010 PGA where he blocked his drive on the 18th hole on Sunday way to the right, couldn't figure out if his ball was in a bunker, grounded his club, received a 2 shot penalty after finishing, and missed out on getting into a playoff by 2 strokes. Needless to say, this is still at the forefront of everyone's mind (including the PGA) so much so they issued a notice to players: "1. All areas of the course that were designed and built as bunkers, filled with sand, will be played as bunkers (hazards), whether or not they've been raked. This will mean that many bunkers positioned outside of the ropes, as well as some areas of bunkers inside the ropes, close to the rope line, will likely include numerous footprints, heel prints, trash and tire tracks during the play of the Championship Such irregularities of surface are a part of the game and no free relief will be available from these conditions. All bunkers inside the ropes will be raked each morning prior to play as normal."
Basically saying, "You've been warned….but, good luck!"
Jordan vs. Rory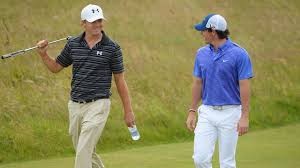 Jordan barely missed out on a playoff (that he most likely would have won) at The Open to watch his (and everyone else's) Grand Slam hopes fade to grey. Rory hasn't played a competitive round in a few weeks, but everyone expects him to be right back where he was. Let me the lonely person that thinks Rory is going to barely make the cut. The key difference between the two is consistency. Jordan is like metronome; consistently great and you know what you're getting every week. Rory is like an EKG; extremely high highs, but when he's 'off' it's very can't-find-a-fairway-to-save-his-life lows. This week, I'm just going to say he's off and struggles on his still-healing ankle tendon. The problem is, everyone desperately wants these two to develop into this generation's Arnie & Jack or Tiger & Phil which clouds their reasoning to think that when you take a few weeks off you can just jump right back into beating the best golfers in the world.
Old Guard
Where does this leave Tiger/Phil/Furyk? Tiger will be having a great Major (by most accounts) if he makes the cut. The same could be said for Phil who has been incredibly disappointing this season. And as for Furyk, the guy just can't hold a lead if you handcuffed it to his wrists. Count me out on thinking any of them will be hoisting the Wannamaker on Sunday.
Want to learn more about Nextgengolf?
Contenders
Bubba Watson - Another guy with an all or nothing game. Everyone seems to like him this week due to his length off the tee and that he finished 2nd in the playoff to Martin Kaymer in 2010. Personally, don't think he has what it takes to win a Major outside of Augusta, GA.
Jordan Spieth - Has been playing out of his mind all season, why would that train stop here? Just kind of depends who else shows up. Has already proven he has what it takes to win anywhere. Expect another Top 10 finish.
Zack Johnson - The Open winner and the only other golfer with a chance to win two majors this season. Again, people like him this week since he finished T3 in 2010. I'm going against the grain and say he won't make the cut.
Jason Day - Finished T10 in 2010. Has been playing great all year. Might be his time to breakthrough.
Justin Rose - If he gets his putting fixed from last week, watch out.
Rickie Fowler - Please stop talking about Rickie until he actually wins a major, please? Too much inconsistency to be taken seriously in every single major.
Adam Scott - Last chance to win a Major with that long putter, then who knows how far he falls in the rankings in the years ahead. A real shame for a guy with maybe the best swing in the game.
Louis Oosthuizen - Is this a regular tour event? No. Is it a major? Yes. Then he'll be in contention.
Rory McIlroy - As previously stated, I think the time away is going to be a hinderance to contending in a Major.
Last...but certainly not least…
Dustin Johnson - Who could forget his grounded club in 2010 or his missed putt this year at the U.S. Open. Has all the tools to take down a Major championship course in record fashion. But can he keep it together for 4 rounds?
Enjoy!...and remember: This is Major.
**Ethan Zimman is the Nextgen City Tour Director of Media and Campaigns. Reach him via email at NextgenWashDC@gmail.com.