One week after the completion of their first regional the Midwest region was back on the course at Riverby Hills Golf Club in Bowling Green, Ohio. Staring down an awful Saturday forecast the event still featured a 67-player field. Regional 1 champion Ohio State was back, along with The University of Michigan, Ohio State's alternate team, and Dayton were all back fighting for crucial points to qualify for college golf club NCCGA Nationals.
Saturday play started at noon after hail rushed players off the driving range. In classic Midwest fashion the field played through temperatures in the mid-forties, a driving wind, and multiple squalls of hail. Ohio State's Austin Cuervo and Michigan's Patrick Colburn both braved the elements to shoot, considering the conditions, very impressive 74's. As A team Ohio State put five scores in the 70's to take the lead with a 378. Followed by Michigan and Michigan State.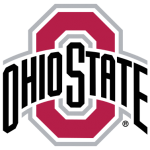 The second round happened to fall on Master's Sunday but a nine o'clock start meant there was time for everyone to play college golf, then go home and watch golf. The weather at Riverby Hills was much improved from Saturday's hail and it was reflected in the impressive individual and team scores we saw.
On the individual side one-third of the field shot in the seventies and there were three rounds under par. Michigan's Trevor Grigg and Patrick Colburn shot 70. Which resulted in Colburn taking home the individual title by one shot over Ohio State Freshman Austin Cuervo, who carded a second round 71.  It's fair to say that once the weather became something that even resembled golf weather the Midwest Region's deep pool of talent shined through.
Every team improved its score from Saturday by a significant account. Ohio University even cut its team score down by over 100 shots. But it was Ohio State's day once again as they shot an impressive team score of just thirteen over par. Again Michigan received second place. With Michigan State making the podium in third place.
All in all the NCCGA has to thank Riverby Hills for making their course available to the Midwest Region on a weekend of very poor weather. They had an on-course ranger who was very friendly with players and spectators. And kept their clubhouse warm for frigid players on Saturday.