This year's NCCGA National Championship involved several teams playing in the championship for the first time ever. Saint Louis University was one of those teams and due mostly to the play of Tanner Rabb. Rabb's college career has not been conventional. After playing golf at both the Division 3 and D1 levels, he has finally found a comfortable spot playing in the NCCGA. Bryan Park was Rabb's second National Championship in his three NCCGA seasons. This year he finished his best ever in a National championship at solo seventh place.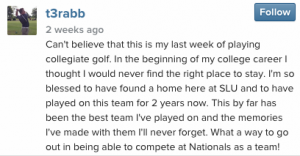 Big time golf tournaments are nothing new to Tanner Rabb. He grew up playing junior golf with world-class competition around Indiana and the country through the AJGA. Rabb is from Zionsville, IN, just east of Avon, which is home to leading web.com tour player Patrick Rodgers. Rabb and Rodgers squared off regularly in high school being the top players from their respective schools.
This past February Tanner witnessed Patrick Rodgers, his childhood friend and competitor, claim his first professional win at the Columbia Championship. Then in early April, Rabb watched fellow 21 year old Jordan Spieth wearing the coveted green jacket at The Masters. Tanner admits it is tough to see these guys he has previously played against already playing so successfully as professionals. "Seeing these guys who I have both competed against growing up be successful has re-instilled a fire within me to accomplish my goals of being a professional golfer," Says Rabb. With these high aspirations many wonder how and why Rabb ended up leaving a Division 1 program to play club golf. That is what we found out.
Tanner began his college career at a smaller school in Southern Indiana, then to a different Division 3 program in Missouri to get away from home and grow as a golfer. However, he realized the small school feel wasn't for him, and he moved to a Division 1 program. Rabb loved the golf and competition, but still was not satisfied, and made his fourth and final college move to Saint Louis University, this last decision based on academics.
When asked about moving away from a Division 1 program to a club team, he said, "I wanted to focus on school and get my degree so I can focus more heavily on golf after school." With his focus on school, Tanner lucked out to hear about club golf and the NCCGA at SLU. Shortly after arriving on campus he found out about the team and signed up immediately.
Rabb made an immediate impact at SLU and on the NCCGA. In his first season he won a regional tournament, qualified for Nationals as an individual, and was even leading the National Championship after the first round. This season, most likely Rabb's last semester in the NCCGA, he set the goal to win the National Championship. After helping his team qualify, he was well on his way. He began the National Championship playing the Champions Course, the tougher of the two courses at Bryan Park. Despite hitting the ball well, he struggled putting and shot a first round 76, 5 shots back but well within reach of his goal.
Tanner knew he had to go low on Sunday. Before the round, he thought it would take an overall score under par to win, so in his mind he needed to shoot 67 to have a chance. Once again, Rabb put himself in great position all day to go low on Sunday, but did not make the putts he needed to. "It's disappointing because I felt I played well but couldn't score, but in the end I am happy to place in the top 10 and compete in such a fun event like the National Championship." Tanner ended the tournament with a 76-73 to put him at 149, six strokes off the lead.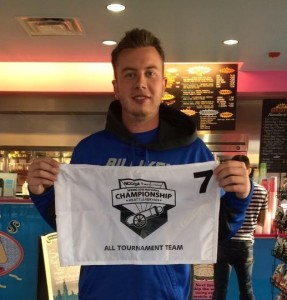 Tanner plans on graduating from Saint Louis University in the winter with a degree from the John Cook School of Business. His main goal is to one day make it to the PGA Tour, but knows it isn't an easy task. Next year he will begin playing mini tours and smaller professional events to get accustomed to the high level of competition and pressure.
The NCCGA and Club Golf proved to be the perfect mix of golf and academics Tanner was looking for. We are happy an organization like this exists so students can focus on their academics, but still play golf at high levels. Tanner has been great for the #ClubGolf Movement and we cannot wait to see where he excels in his future.
**Jack Stephens is the NCCGA Director of Communications. Contact him at blognccga@gmail.com and follow him on twitter @NCCGABlog