It's difficult winning an NCCGA National Championship. Each semester more than 200 club golf teams have aspirations to reach the pinnacle of the non-varsity golf world, and only one receives the trophy at the end of the season. Several schools enter the Fall 2015 National Championship at TPC San Antonio not only with aspirations of winning a title, but also with previous championship experience still on their roster. Will a team on this list return back to the top?
Florida
Florida is known as a powerhouse, especially since they are the defending National Champions this coming weekend at TPC San Antonio, and have qualified for Nationals each year the club has been in existence. They began the year ranked preseason #1, and enter nationals at #2. I had the opportunity to speak with Blake Herschberger, UF's Club President.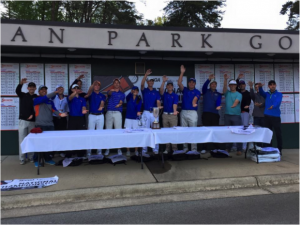 Did the team play any differently this semester knowing that they already had a bid to #TrailToTPC?
We still wanted to win every tournament and still prove that we deserved a bid to nationals.
Do you think winning the last national championship will be helpful or do you think there will be added pressure?
I think it will help us more than hurt because they already understand what it takes to win. I don't think there will be too much added pressure. The team is not worried about the repeat or winning back to back, they are just focused on winning at TPC San Antonio. 
How many of your team played in the last national championship?
6 of the 8 players that won us the national championship last year will be playing at TPC San Antonio so we feel good about that.
 Is there a certain player on the team that has really stood out this semester?
Tyler Segal and Josh Dubberly have been very extremely consistent this semester and are going to do big things at nationals.
Baylor
Baylor is a name in the #ClubGolf world that everybody just knows about. Baylor Club Golf was the NCCGA National Champions in Spring 2014, placed 3rd Fall 2014 Championship, and placed 2nd in Spring 2015 championship. Sam Hall, Baylor's Club President, is confident that Bears will perform well at TPC San Antonio.
After Baylor's previous dominance, how does the team feel about not getting an automatic bid in the Texas region?
The team is a little surprised; however we are glad to have grabbed a wildcard spot. We are truly just glad that we got to Nationals and now we are ready to turn things around.
Is there anybody on the Baylor Club Golf team that stood out this Fall semester?
Bruce Popp, who is a transfer student, has been playing good golf all semester and he has been leading the team with scoring. He is a consistent scoring machine.
Do you that that winning the National Championship in Spring 2014 will help in San Antonio.
Yes, most definitely because some of the guys who were on the team then are still on the team now.
How do you think the team will look next year?
We are losing the few guys that won the Spring 14 championship but we will definitely pick up a few more guys. We are excited and happy that Baylor has been consistently strong.
Clemson
Clemson was the co-champions of the Fall 2014 NCCGA National Championship at Dancing Rabbit, and finished in third in Spring 2015. The team received the final wildcard spot this semester after finishing a surprising third in the Southeast Region. Chris Miller is the Clemson Club President, and discussed the team's semester.
The team finished in 3rd and 2nd place in the regional tournaments this semester, respectively. What does it mean to snag the final wildcard spot?
It means so much to us.  We weren't able to get two good rounds together for the first regional, and the second regional, we didn't get our full team to travel because it was a busy weekend for the guys on the team.  We really want to show everyone that we're here to stay on the National scene.
 How many players are on the roster from the championship winning team in the Fall of 2014 (at Dancing Rabbit)?
There are three players (Jordan White, Matt Barth, and me) that will be returning this weekend from the 2014 National Championship team at Dancing Rabbit.  We all want to get back-to-back Fall Championships for Clemson.
What kind of an advantage (if any) does having experienced Nationals players on your roster provide over the other teams?
Four of the eight of us traveling have played in a National Championship before.  I think that biggest advantage that having experience from previous Nationals tournaments is that the guys all know how fun it is, and that it really is a great feeling getting to represent Clemson on the national level.  Talking with the guys that have been there before, I've noticed a lot less nerves and a lot more excitement.
How is the team playing leading up to the tournament?
I've played with all of the guys traveling except for 2 in the past 10 days, and I've seen a lot of great golf coming into Nationals.  I think this has the potential to be our strongest team to go to Nationals.
Are there any specific players on the team playing exceptionally well right now?
I'd watch out for the power frosh Reid Smith and previous #1 ranked Matt Barth this weekend.
Anything exciting or interesting happen this past semester that you would like everybody to know about?
The Football National Championship isn't the only National Championship that Clemson plans on bringing home this year, so watch out.
Michigan
Michigan has had a strong presence in the #ClubGolf world, especially after winning the Fall 2013 NCCGA National Championship. I had the opportunity to talk with Luke Stull, Michigan's Club President, about this past semester and how the team feels going into #TrailToTPC.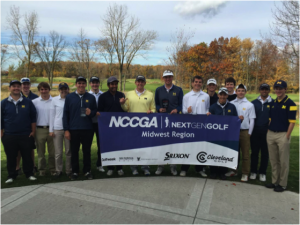 How is it competing in the Midwest region?
It is a very competitive region however we continue to do very well. The team is impressed by how good Ferris State is, which probably due to their PGM program. The team was surprised to lose to Ferris State by 1 stroke in the first regional tournament. With how close everything was this semester, we are glad we came out on top by those very few strokes because Ferris State didn't receive a wildcard spot.  
How does the team anticipate doing at Nationals?
The team is extremely excited about playing at TPC San Antonio, but more excited that our team is young and have a bright future ahead of us. Although two of the good players can't make Nationals, a lot of players on the team have really pulled through and have been pretty consistent.
Do you think being the NCCGA National Champions in Fall 2013 will help at all at #TrailToTPC?
Yes it will definitely help because two of players, Luke Stull and Andrew Hartman, played on the Fall 2013 team.
Are there any specific players on Michigan that have really stood out?
The two players that stood out the most are Jeff Clemence who is an unbelievable golfer and Alex Finsterwald who consistently brings in good scores. We can always count on both for good scores and would have definitely not made it this far without them. During one qualifying round, Jeff had 3 eagles. Also, Alex is an Evans Scholar, which is the scholarship program for caddies from the Western Golf Association.
Anything exciting or interesting happen this past semester that you would like everybody to know about?
Losing the first regional was a huge surprise for the team. It really woke the team up. We also started competing with a B Team this semester, which was a little challenging to manage but it improved our team by making our qualifiers more competitive.
Learn More about the NCCGA National Championship
Missouri
Mizzou was the co-champions of the Fall 2014 NCCGA National Championship, however the team struggled at the Spring 2015 National Championship in North Carolina. Fritz Simmon, Missouri Club Golf team President, is here to talk more about the team.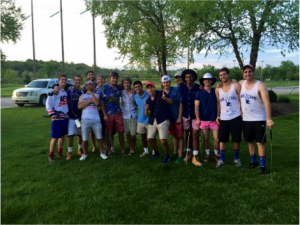 How is the Mizzou team looking for nationals and how do you guys plan on doing at #TrailToTPC?
We feel extremely confident heading to #TrailToTPC. We had 24 guys competing for 8 spots. The team is competitive and everyone has the potential to shoot a low score. We have won it before and we think we can do it again!
How much does being a co-champ in Fall 2014 help for #TrailToTPC?
Being a co-champ in Fall 2014 gave us the confidence that we can compete with any team in the country and the team knows what it takes to be successful. Before the Fall 2014 championship, the team practiced everyday the 2 weeks before Nationals in 40 degree weather and they are doing the same thing now for TPC San Antonio. Also, 5 of the 8 golfers that played on Fall 2014 team are playing this coming weekend at TPC San Antonio.
Is there anything specific about the club you would like to mention?
At Mizzou, we do a lot of team building chemistry events such as basketball tournaments between the 24 team squad and barbeques. I really want the freshman and transfer students to feel comfortable with their first years at Mizzou. We even have some members of the team signing leases together.
What are you doing to ensure the team is growing?
We find social media extremely helpful for recruiting. We also created a website and keep that up to date because past experience shows that most people google the words "Missouri Club Golf" when they are interested in the team. Word of mouth has also been a huge recruitment factor for us. I am very happy with where the team is at as we are pretty balanced with about 50% underclassman and 50% upperclassman.
**Brandon Harrold is the 2015 NCCGA President. Contact him on Twitter @NCCGA.