It has been a fun ride for the Baylor Club Golf Team and its founders. Several Baylor students created the team in the spring of 2013, looking to play competitive golf at a non-varsity level. It took only one year to reach the top, winning the Spring 2014 National Championship at Crystal Springs
This year, the players who created the team 2 years ago would play in their final NCCGA event at Bryan Park, hoping to become the third school ever to win multiple club golf National Championships.
Like the other top teams, Baylor began Day 1 on the Players Course, and moved to the Champions Course on Sunday. Club President Sam Hall led Baylor both days firing two 72's ending up even on the tournament, one off the lead, to finish third individually.
Hall was not the only player who went low on Saturday. Dave Pytel one-upped Hall with an under par round of 71. Hogan Hudgins and Jeffrey Solomon both shot 74 to help lead Baylor to a tournament low first day 369. With a lead going into Sunday, Baylor seemed to be in complete control of their destiny.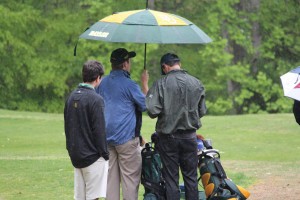 Another strong performance Sunday, and only one day separated them from their second National Championship.
After sleeping on the lead, Baylor came to the course early Sunday and played in the morning wave of tee times. It's always tough to backup a stellar performance, and Baylor struggled.
As a team, they played the Champions Course 23 strokes worse than the Players course. Conditions were much tougher Sunday, but that did not ease the feeling of Baylor as they sat and waited for the leaders to finish playing Sunday afternoon.
"No one felt too good about where we stood Sunday," said Hall. "It was fun to be done first, but there was a lot of anxiety trying to figure out where we would finish."
National Championship Leaderboard
As the day went on, Florida, Clemson, and Baylor's scores all got closer and closer together. Finally, after hours of waiting, the last groups were off the course and the final scores were counted. 5 shots is all that separated first from third place, and Baylor found themselves in second, three shots back of Florida.
Sam Hall shared with us what he thinks is most difficult to win the second National Championship after being so close several times. To him, it's all about putting together two good days, not just one.
"We learned a lot from this tournament. We all played well the first day, and we just didn't grind as hard as we needed to on Sunday," said Hall. "This showed us how crucial it is to put two good days of golf together. We can't rely on just one."
Even though they didn't win, Baylor still took away many positives and an enjoyable experience at Bryan Park. It's not often all of your teammates play well on one day, so Baylor really enjoyed posting a low number on Saturday to take the lead.
"It's always fun to play well and sleep on the lead," said Hall.
After their great Saturday performance, the teammates enjoyed a night of bowling and laser tag with fellow NCCGA competitors. Hall said the National Championship is always a fun event and despite coming up short on the course, they still had a fun weekend.
This second place finish stings for Baylor and their seniors playing in the last club golf event for the team they created, but looking back they have to be proud for what they have accomplished. One National Championship win, two top 3 finishes, and numerous regional titles.
**Jack Stephens is the NCCGA Director of Communications