The 2013 Spring Season for the National Collegiate Club Golf Association (NCCGA), a collection of over 100 elite non-varsity college golf clubs spanning from Boston to Los Angeles, came to a close this past weekend at Purdue University's Kampen Golf Course in West Lafayette, Indiana.  A host to the 2008 NCAA Men's College Golf Championship, Pete Dye's fescue-laden and hazard-heavy Kampen Course--augmented with heavy winds and spitting rain--proved to be a true test at 6,874 yards.
The field at Kampen consisted of the nine respective regional-winning teams, four wild cards, and the 2012 Spring champion, East Tennessee State University. The favorites coming into the weekend included the University of Delaware and Ohio State University, but after the first round, it was clear that ETSU had come to Indiana on a mission.  ETSU fired an impressive 377 (+17) opening round which gave them an 8 stroke lead over the University of Michigan and a 13 stroke lead over last semester's National Champion, East Carolina University. This year, ETSU entered the final round in much different position than in 2012 when they erased a 13 stroke deficit to win the National title at the Homestead Resort in Hot Springs, VA.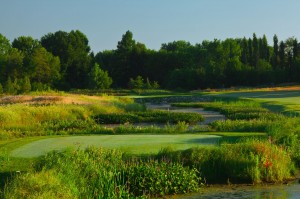 With Sunday's heavy rain replacing Saturday's gusty winds, The Kampen Course--playing hard and fast on day one and long and soft on day two--presented different challenges for all types of golfers.  Nothing was stopping ETSU, however, and with final round of 370 (+10) and a highest-counted score of 77, they fended off the East Carolina University squad which finished 19 shots behind and Ohio State University in third place.
In addition to the team tournament, for the first time NCCGA had an individual Medalist section comprised of all the members of the college golf club teams at Nationals and nine individuals who finished as the highest ranked players (based on regional tournament performance) not on those teams.  The individual tournament was quite close after the first round with Blake Howard of ETSU in the lead followed closely by two players at +1, Christian Dolan (UVA) and CJ Konkowski (UNH), and two other players at +2, Andrew Wiley (Towson) and Pat Colburn (Michigan).  Battling it out on Sunday, Howard would come out on top finishing with another round of even par, 72, finishing the tournament at level par to become this semester's National Medalist.
Coming in just behind Howard and tied at +2 were Christian Dolan (UVA) and Tom Duty (ECU).  Duty had the low round of the tournament with his 70 (-2) on Sunday.  Dolan and Duty earned the first two spots on the All-American team, followed by CJ Konkowski (UNH) 147 (+3), Jace DeVault (ETSU) 147 (+3), Kevin Konziol (Arizona) 148 (+4), Joe McCormick (UNC-W) 150 (+6), and Ben Treadway (ETSU) 151 (+7). Such an outstanding event would not have been possible without the incredible support provided by PGA Professional's Brent Willis and Dan Ross at the Birck Boilermaker Golf Complex. We are very appreciative of our sponsors, Polo Ralph Lauren, Wilson Golf, and Golfsmith and cannot thank them enough for their support. All results and scores can be found here.
Looking ahead, the NCCGA has already added new schools in the past week for the 2013 fall season and anticipates supporting about 200 collegiate college golf club teams next semester. In the next few weeks the location of the Fall 2013 National Championship will be released. The venue will be a 36 hole facility which will allow 28 teams to compete for the National Championship. For more information about NCCGA, email president@nccga.org with Nationals suggestions or new teams to join the NCCGA.