The PGA Merchandise Show is an annual event in Orlando, Florida that features almost every person and organization affiliated with golf. From the biggest companies, such as Cleveland and Srixon, to small start-ups hoping to show their product to decision-makers, everyone is there.
The 2016 PGA Show was my first-experience at the event, and I came away learning a lot. It can be an overwhelming, even daunting, experience the first time. I mean, where to start? Who all should I talk to? How can I talk to everyone with only 24 hours in a day?
So whether you have been to the annual PGA Show in Orlando many times or are looking to attend in the future, here are 3 things I learned as a first-timer that should help you in your first visit in 2017 or beyond.
1) Talk to someone who has been there before.
It's important to talk to someone who has been to the PGA Show before. My colleague Kris Hart, CEO of Nextgengolf, was able prep me for some of the things he learned in his first few years traveling down to Orlando each January. He received similar advice for getting the most out of the show by talking to experienced industry attendees before his first visit.
2) Caution, the days go by fast. Plan ahead.
Inevitably, some scheduled meetings and planned activities have to be rearranged last minute as the show is quite hectic. Everyone has their own agenda and planning out your week at the PGA show takes time to set up the right meetings beforehand, be flexible for last-minute changes, and just be ready to walk (a lot). Since the Orange County Convention Center is huge, planning out the proper meeting order is essential since some booths may be a 10-15 minute walk apart.
3) Take time to explore.
Outside of my scheduled meetings, I made sure to block off time on my calendar to stop by PGM schools, check out some of the newest golf companies, talk with our current Nextgengolf sponsors, and look for future sponsors the members of Nextgengolf would enjoy.
When the show closes each day at 6pm, take advantage of some of the events that brands sponsor at local bars and restaurants. It is a great way to meet and network with key industry folks.
Been to the PGA Merchandise Show and want to share your experiences? Tell us what future attendees should know by tweeting us at @nextgolfer.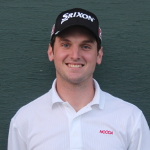 **Matt Weinberger is the COO of Nextgengolf. Contact him on Twitter @bergsUD.