In light of Jason Dufner's PGA Championship, we thought it would be fun to share a couple pictures of some NCCGA Regional Tournaments performing what may be the world's biggest collective act of Dufnering!
For those who don't know, Dufnering--or the act of sitting down with your legs straight and head slouched--went viral this past Spring and made it's way into a couple of our Spring Regional Tournaments.
NCCGA New England Spring Regional -1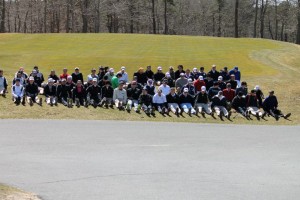 While I don't have hard evidence, I am confident that this could be the largest collection of college student golfers Dufnering. Will an any other regions be able to top this epic Dufner-ific performance? We have 33 tournaments arranged across the country for this fall season so we will find out shortly!