In an effort to help club golf teams start their own #GolfTraditions, Nextgengolf & NCCGA have teamed up with State Traditions to bring an array of benefits to NCCGA teams and Nextgengolf members across the country.
State Traditions based in Birmingham, Alabama, creates  top-notch, state and country-inspired apparel and accessories that reflect traditions across America and the world. What makes State Traditions unique is that the brand focuses on what people already have a connection with: state pride, cherished memories and favorite pastimes.  After being founded in 2007 by friends Keith Brown and John McElrath, they were later joined by another friend, Maury Lyon. State Traditions' brand has grown to receive national recognition by having their products in over 250 store nationwide in addition to their online store.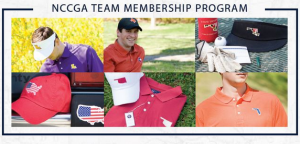 What can State Traditions do for you?
They keep your drinks cold, phone protected, and pants held high
They showcase your school's pride
They represent your favorite school
They dress you with your club golf team's colors on and off the links
They get you game day ready
BONUS: NCCGA teams receive 50% off Bulk Team Sales and 30% off individual orders
What more could you ask for? They will work with you to help get your team outfitted an affordable way that reflect your club golf teams #GolfTradition.
Tell them what your tradition is. Maybe they will make it their tradition too!
My Tradition
Missouri
School: University of Missouri
Colors: Black and Gold
Mascot: Tigers
My State tradition is Missouri. My lifelong tradition is Golf. My career tradition is Sport Management. Lucky for me, I have a chance to make my lifelong tradition into my career tradition with the opportunities that I have been provided with at the University of Missouri.
#GolfTradition: I have been fortunate enough to be on the Mizzou Club Golf team for four semesters now, which has led me to taking this amazing opportunity to write for the NCCGA blog. Outside of club golf, but not quite out of the sport, I will be completing my internship with the Columbia Golf Foundation here in Columbia, Missouri. I have had so many great memories while attending Mizzou that will stick with me forever, and I will continue to create more traditions throughout my life.
That's my #GolfTradition, find yours with State Traditions & NCCGA this spring!
Follow me on Twitter @MizzouKeith33