Okay, I didn't go into a gas station and buy a scratch-off ticket, and I didn't even win any money. What I did win this year, however, was something that I have been longing for all of my golfing life. For the first time, after yearly submissions for the lottery, my family finally won practice round tickets to the 2014 Masters. Sure, it wasn't the actual tournament, but what it was, was truly magnificent. A place almost indescribable tucked away in the small town of Augusta, GA.
With the U.S. Open taking the golf spotlight this weekend, it takes me back to the first major of the year in early April, when my family made the 8-hour drive from Cincinnati. After 24 years of waiting for this opportunity, it was finally a chance to walk the course I had only watched on television and played on the Tiger Woods video game.
Upon entering the grounds, the first word that came to my mind was "fake." Yes, you read that right, fake. The grass was so well manicured that it looked painted. The practice range looked like it could be its own course. The patrons were everywhere and the clubhouse was a thing of beauty. But when I finally made it past the gift shop (which I of course had to visit later on) and out on the actual course, it lived up to every expectation.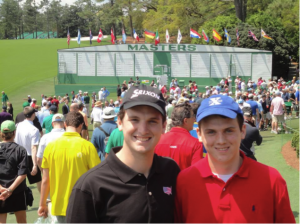 I spent the day watching Keegan Bradley and Luke Donald play their practice round, taking in the sites of each unique hole. One thing that surprised me was the undulations and hills throughout the course. Every hole seemed much more defined than it did on TV. I walked to the spot on 10 where Bubba had hit his miraculous hook shot to win his first green jacket in the playoff. I stood behind the 18th tee and saw just how narrow and precise the final tee shot has to be. I also stood at Amen Corner, soaking in the aura of the place where so many greats have walked, from Bobby Jones to Jack Nicklaus.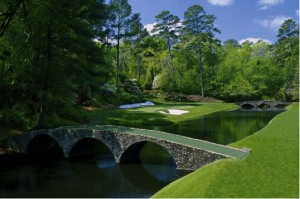 The day went by quickly, but I left with memories I will never forget (and of course some Masters memorabilia). I hope everyone gets the opportunity in his or her lifetime to be a patron at golf's most prestigious event. And don't forget to put your name in for the 2015 Masters practice round lottery by June 30th, hopefully you will be lucky enough to win, too.