The second week of competition, the NCCGA Spring Season traveled to South Carolina. Clemson University defended its title as Southeast Regional champs, winning their fourth consecutive regional tournament.
This weekend's NCCGA Regional Tournament was full of challenges brought on by the weather and course conditions. Saturday provided ideal scoring conditions, but due to quick, testy greens, scores did not reflect this. After the first day of competition the University of Georgia led Clemson by four strokes, and the Golf Academy of America-Myrtle Beach, only 12 shots back.
Sunday, though, seemed to be a whole new golf tournament. Conditions went from ideal to a golfer's nightmare. Here is what Regional Coordinator Ethan Lambert had to say about playing conditions Sunday, "When we teed off the temperature was 35 degrees with a constant drizzle the entire round. About nine holes in, the drizzle turned to a downpour saturating the greens. Head pro Sam Randazzo deemed them unplayable. We had about an hour rain delay to let the greens soak up some of the standing water, and when we went back out. The once fast greens went from about a ten on the stimpmeter to about a five."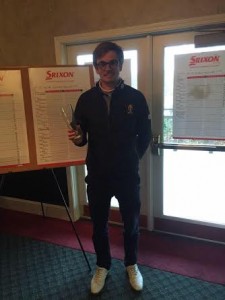 Cedric Van Wassenhove, of Clemson, was unfazed by Sunday's tests. He led Clemson in the come-from-behind victory thanks to his 72-73 overall score of 145, which was seven shots better than the field. When play was finally over, UGA shot a 797, good enough for second place and GAA-Myrtle Beach finished in third place.
Along with Wassenhove, the remaining All-Tournament team was made up of 2. Ryan Reynolds (GAA), 3. Parker Dudley (GAA), 4. Matt Youmans (UGA), 5. Jordan Davis (UGA), 6. Adam Davis (UGA), along with T-7. Carson Hunt (PGCC) and T-7. Charles Neidenback (Clemson).
The next NCCGA Southeast Regional will be exciting, as Georgia, The Golf Academy of America-Myrtle Beach, and PGCC: Hilton Head all have the ability to challenge Clemson for the title in the next regional tournament. That tournament will be played the weekend of April 4th-5th at The Clubs At Cherokee Valley in South Carolina. Who do you think will come out on top in the Southeast and earn their spot at the #Battle4Bryan?
**Jack Stephens (@NCCGABlog) is the Director of Communications.