As the NCCGA continues to grow rapidly so does its student leadership team. Earlier this year, I was fortunate enough to be chosen as the NCCGA Director of Campaign and Social Media. Coming into a new leadership position was intimidating with only a few months to prepare for the season. However, with the help of Cormac Kelly, the previous Director of Campaigns, and the entire NextGenGolf Staff the transition into my new role has been smooth and exciting.
I grew up in Boise, Idaho around a great golf community, but of course I wasn't focused on golf at all; it was all soccer and baseball growing up. The only thing I wanted to do was hit a bucket of balls every once in a while. After a long talk with my grandfather and the junior high golf coach, I went out for the team. I haven't looked back since.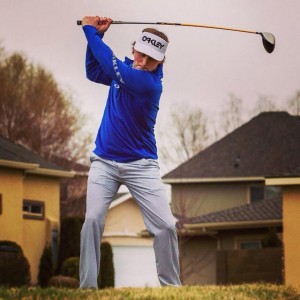 After high school I headed to the University of Idaho where I chose to study marketing with an emphasis in Professional Golf Management. In the Fall of 2013 the University of Idaho Club golf team was formed through the NCCGA, and I immediately jumped on the opportunity to play competitive golf again. That winter, I was chosen as the Northwest Regional Coordinator and helped develop the region with the help of the Nextgen staff. In the Spring 2014 season I was blessed to be chosen as the Regional Coordinator of the Year and honored with the award at the National Championship. Trust me on this: that will not be the last time the country will be seeing the University of Idaho representing the Northwest Region.
Over the past two summers I have had the opportunity to intern with two country clubs in Boise. Through these internships I've gained a lot of experience with tournament operations, teaching, and most importantly a better understanding of the golf industry and how it's rapidly changing. This knowledge and experience will help me serve the NCCGA to the best of my ability.
Join the #ClubGolf Conversation
Looking on to this year I plan to carry on the campaign #ClubGolf and encourage every club golf team to get involved. #ClubGolf will engage teams via social media channels in an effort to find out which club golf team has the best traditions. Along with that campaign I will be looking to start many more initiatives to help the communities that we all call home through National Organizations to support a good cause nationwide. I look forward to serving and working with every single one of you in the next year.
**Adam Englehorn is the Director of Campaign and Social Media. Find him on twitter @NCCGACampaigns  or email him your questions at adam@nccga.org