The college golf season has officially come to a close. Congratulations to Stanford (Women) and LSU (Men) on taking home the NCAA Division 1 National Championships!
There is a lot to be said about the format the NCAA uses determines their National Champions. Could it be the future of the NCCGA National Championships as well? With the long time on the golf course as well as being away from school it's not likely but only time will tell.
The NCAA has been through 3 different formatting eras since the golf became an NCAA sponsored sport in 1939. They have done both match and stroke play to determine the National Champion but in 2009 they changed the format to the probably the most deserving way to crown a champion.
They now play 54 holes of stroke play before a cut is made to narrow the field down to 16 teams, and the top nine individuals.. After the cut, the field plays 18 more holes to determine the Individual Champion and all-tournament team, as well as the Top 8 teams which advance to the Team National Championship portion. The remaining 8 teams are seeded in a bracket and compete in match play until a champion is determined.
N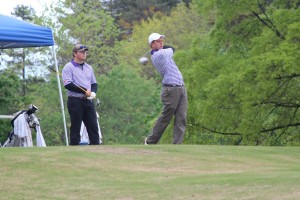 ow let's imagine this was the format for this year's NCCGA National Championship and instead of playing 72 holes we play 36 to crown the Individual Champion and make the 8 team cut to see who will be crowned the National Champion. In addition to the top eight teams, we would only take the top 5 finishers on those 8 teams and have them compete.
Michigan State's Josh Heinz would still be our Individual National Champion and get to put on the prestigious red jacket. Teams such as Providence and Golf Academy of America- Dallas would be stunned as they would be sent home despite only being 1 stroke back of Michigan State for their chance to compete for a national title.
The first round of Team Match Play would look something like this:
#1 Florida vs. #8 Michigan State
#2 Baylor vs. #7 Georgia
#3 Clemson vs. #6 TCU
#4 GAA- Carlsbad vs. #5 Michigan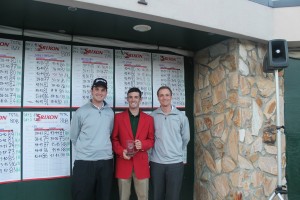 As many of you are probably thinking who would win each match just keep in mind ANYTHING can happen in match play. In these matches I would love to see some key match ups such as:
Josh Heinz (MSU) vs. Laura Kanouse (Florida)
Sam Hall (Baylor) vs. Jordan Davis (Georgia)
Matt Barth (Clemson) vs. Michael Culin (TCU)
Chris Miller (Clemson) vs. Jose Gonzalez (TCU)
Ethan Helm (GAA-Carlsbad) vs. Patrick Colburn (Michigan)
There would be some close matches I'm sure, but would Florida still be our National Champions? Maybe one day we will be able to find out who can be the best of the best and dual it out to the finish through 90 holes (If each match went to 18 holes).
**Adam Englehorn is the NCCGA Director of Campaigns and Media, and PGM student at the University of Idaho. Reach him on Twitter @NCCGACampaigns.