Fundraising is often the biggest obstacle for a team to compete in the National Collegiate Club Golf Association (NCCGA). In order to help teams around the country, we have been hard at work coming up with new ways for teams to fundraise on campus and in the local community. I previously wrote about several ways that clubs can utilize different forms of golf fundraisers. Be sure to check out all the ways you can help raise money and awareness for your team.
In addition to the strategies that club golf teams have used, Nextgengolf has also created a fundraising platform that teams can use to solicit donations. When club president's log-in to manage their team, they are now capable of setting up a unique team page to ask for donations. Based on the level of donation, donors can select from a variety of different sponsor products.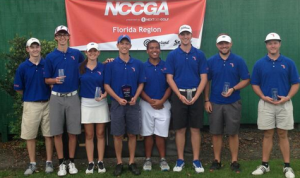 It is recommended that everyone on the team sends the link to friends and family and asks for support. This is a fun, new incentivized program to get people more excited to donate to your organization. It is a different type of golf fundraiser to help each of you. To learn more about the Nextgengolf fundraising program, have your club president reach out to their NCCGA Zone Manager.
I would like to concentrate here on specifically using our National Lifestyle Apparel Partner, State Traditions, in order to fundraise for your club golf team.
There are several State Traditions products that are affordable and sell quickly on college campuses. Customizable by state, you can buy Koozies, hats, or croakies through State Traditions using your NCCGA discount. You can then sell these item to your friends and peers on campus and make a profit for your team.
You can see the full line of State Traditions apparel items on the website.
Let the NCCGA help with fundraising.
** Tom Thrift is a Zone Manager at Nextgengolf. Direct questions about golf fundraisers or how to start a team to: tom@nextgengolf.org