As some regions have been unable to even swing a golf club this season due to weather, the Southwest Region has already seen Golf Academy-Carlsbad clinch an automatic bid to Nationals. Along with the Southwest tournament action this past weekend, the Ozark and Pacific Regions kicked off their spring seasons.
SOUTHWEST
In the first Southwest Regional, the Golf Academy-Carlsbad took home first place and knew a win in the second regional would secure a bid to nationals.  The challenging Apple Valley Golf Club forced players to compete at their best for the Regional Title. After the first day, GAA-Carlsbad jumped to a 22-stroke lead over National University with the help of a 2-under 69 from Dominic Lizarraga. USC and UCLA were only 2 and 8 strokes back, respectively, from National after Saturday.
National improved their play Sunday, dropping 21 strokes from Day 1 to Day 2, but unfortunately for them, GAA improved as well, shooting a team score of 365 (+10) and helping them secure the win over 2nd place National and 3rd USC.
Southwest Regional Coordinator, Dustin Watanabe, had this to say about the weekend, "Apple Valley Golf Club was a very tricky course. The greens were fantastic; true, firm, and fast. Congratulations to the Golf Academy, who dominated the Southwest Region in their debut season. With their two wire-to-wire victories, I can definitely see them being in contention at Nationals in April."
Congrats to GAA-SD for punching their ticket to the @NCCGA finals in North Carolina. #gaasd #gaapride #clubgolf pic.twitter.com/aAO1wLWH45

— GolfAcademyAmer (@GolfAcademyAmer) March 9, 2015
OZARK
The Ozark season went into competition mode with four teams; Arkansas Tech, Oklahoma State A & B, and Oklahoma University. According to the preseason rankings, the 11th ranked Arkansas Tech was favorite once again to win the region.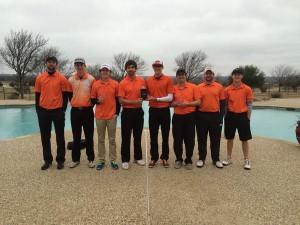 Regional Coordinator Joshua Oestricher said about Day 1, "As play got under way Saturday, players were faced with lightning greens and tough pin placements. Dillon Young from Arkansas Tech was the low man of the day with a 4-under 68 followed by Parker Hale, who was only two strokes behind. Collin Poole from Ark Tech and Zac Matson from OK State were the only other players in the 70's. After the first round, Arkansas Tech's team was leading the tournament by a comfortable 40 shots over OK State and 60 over OU."
The second day was greeted by rain and a constant, brisk breeze, which slowed the greens but made the overall course much more difficult. This was apparent by looking at the leaderboard. The low score of the day was a 77 by Parker Hale. At the end of the round, Hale and Young for first place, but Young was determined to be the winner by a scorecard playoff. Although the course played much tougher on Sunday, it was not enough to slow down Arkansas Tech who cruised to their second straight Regional victory. Oklahoma State finished second and Oklahoma third. You can find the final team and individual scores here.
PACIFIC
The much anticipated "Battle of the Bay" fulfilled all expectations. This weekend the Pacific Region consisted of Stanford's A and B teams along with Cal-Berkeley's A and B teams.
After the first day of play, the Cal and Stanford A teams were tied at 392 strokes a piece. Stanford B team, however, was beating Cal's B team by 3 shots after Saturday' play. Both schools brought their best which made for a great tournament. The difference in first place had to be determined on Sunday.
Stanford improved by 3 strokes on Day 2 while Cal added 3 strokes, helping Stanford win this close match-up. Much of their success is attributed to medalist Chris House, who won the tournament with an even par 70-74 performance for the weekend. Cal's B team finished in 3rd place, coming from behind to steal a point from Stanford B.
Matthew Ruetten, of U. Cal, was right on House's trail all weekend. Ruetten shot a 73 on Saturday leaving him only three strokes back, but couldn't make up the difference on Sunday. He finished 2nd overall with a total score of 149. Teammate Matt Briggs wasn't far behind with a 75-79, which was good enough to take home 3rd place. Spencer Savitz from Stanford finished 4th while U. Cal's Raman Kulkarni rounded out the top-5 finishers.
Gulf Regional Tournament 1 has been postponed due to excessive rain this week with more to come this weekend. With that being said there will be no tournament play this weekend for the NCCGA. Look for competitive play to pick back up again in two weeks, March 21st and 22nd.
**Jack Stephens (@NCCGABlog) is the Director of Communications.