Written By: Travis Richardson | @travis_richson
The weather was beautiful all weekend for Nextgengolf's inaugural Spring Break Open at Wachesaw Plantation East golf course in Murrells Inlet. The course hosted more than 70 college golfers from over 15 schools across the country, and the Georgia Tech club golf team took home the team trophy. Liberty finished in second, followed by Delaware in third place. The honor of low best-ball pair went to Liberty's Andrew Barrick and Austin Northern after an epic 4-pair playoff on Hole 18.
The tournament was team-based, 2-person best-ball. All teams were 4, 6, or 8 players, and the top 2 best-ball pairs per team composed the team score. The event kicked off on Friday evening with mini-golf and a corn-hole tournament at the facility, and provided a chance for all the teams to meet each other before the festivities began.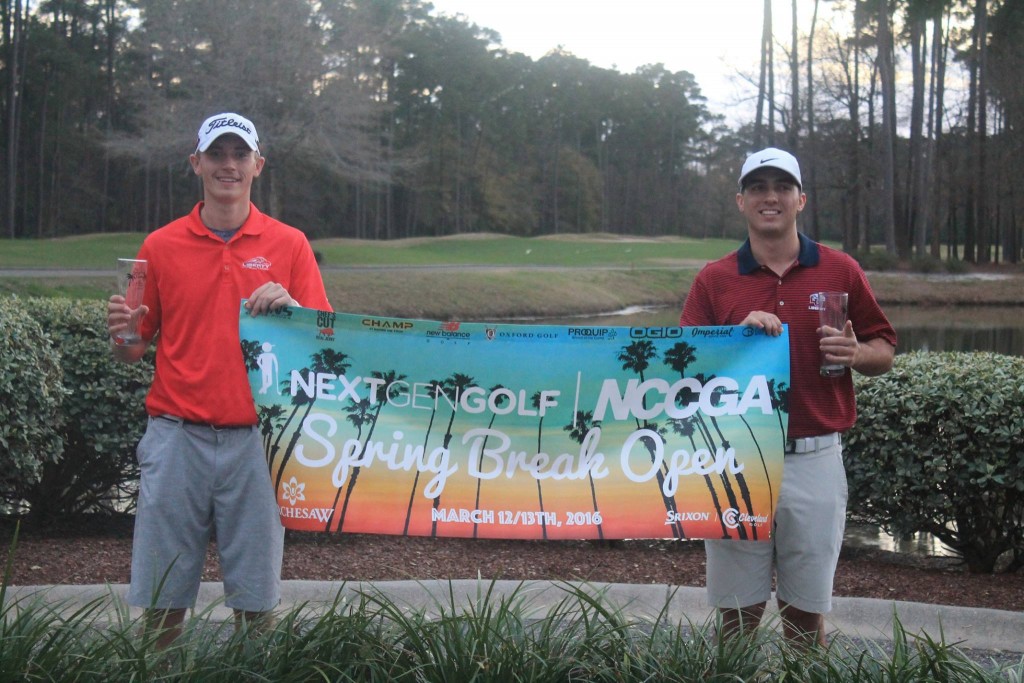 The tournament began on Saturday afternoon with a double-tee start, and the round ended with Georgia Tech in the lead by 4-strokes over Liberty. The Yellow Jackets were led by the pair of Carlos Adkisson and Samuel Kim, who fired a best-ball score of 71. Tied atop the pair leaderboard at the end of Day 1 was also Connor Eline and Zach Pallis of High Point University.
Georgia Tech and Liberty were paired together on Day 2, and the tournament field had to wait till the final group to find out the winning result. The Yellow Jackets edged Liberty by two strokes to win the team title. But that was just the beginning of the drama.
View photos from the inaugural Spring Break Open
Four pairs were tied with a 142 best-ball score at the end of two rounds, and it was determined a playoff would be held. All eight players headed out to Hole #18 to determine a winner. Lowest cumulative score for the pair would win. The playoff ended with Liberty's Andrew Barrick and Austin Northern scoring a cumulative 9 (watch the full video stream of the playoff here).
Other schools in attendance included Maryland, Hampden-Sydney, Maryland, DePaul, William & Mary, UW-Milwaukee, Wright State, Molloy, TCU, and Bloomsburg.
The weekend was a great event for all and provided an opportunity for college teams from all over the country to spend a weekend away with friends and golf. We will be back with another Spring Break event next Spring and are excited for even more students to join us!