With the addition of five new regions—Twin Cities, Philadelphia, Southern Connecticut, Pacific, and the Ozark—we'll now have 27 regions for the fall 2014 semester.  With new regions comes new rivalries (and old ones potentially lost) and most importantly, more college golfers getting the opportunity to experience competitive golf.
I had the chance to meet Joe Catalina in person at the second New England Regional this past spring. Joe's SCSU Hawkeyes struggled to pull everything together the previous fall, and were thrilled to play competitively but "had trouble funding travel and hotel nights to compete," he explained. When I told Joe about the potential to start a new Southern New England Region for all the new college golf teams in Connecticut, he loved the idea and was thrilled to hear that new teams such as Quinnipiac, Uconn, and New Haven will now be able to compete given the reduced travel time.
Joe's story—specifically his willingness to step up for the NCCGA—is not unique, as Ryan Liberty, Chris Roebber, and Josh Oestricher—all took on Regional Coordinator roles to make their new regions a possibly this fall.
Twin Cities Region
With continued strong growth in the North Region (formed Spring 2014 in Wisconsin) we've continued to see new teams popping up in the Minnesota and Dakota areas such that breaking out the North Region proved to be a necessity. We always try to reduce the travel time for new teams that are typically self-funding for the first one or two semesters, so creating the Twin Cities Region to accommodate a slew of new teams was a necessary, albeit late addition for us. Nonetheless, we are thrilled to bring the NCCGA to the Minnesota which is home to one of the most dedicated golf populations of any state across the country.
Stepping up as the Regional Coordinator for the region is Chris Roebber of the University of Minnesota. We anticipate that Hamline University, South Dakota State, University of South Dakota, Wisconsin River-Falls and Wisconsin-Oshkosh will participate in this new region.
Philadelphia Region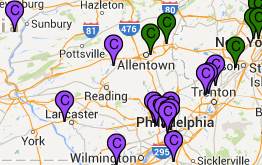 Splitting off the southern half of the Metro Region with an influx of a new teams from Philadelphia headlined by Saint Joseph's University the College of New Jersey, Ryan Liberty of Rowan University will be the Regional Coordinator.  With the potential of having 28 teams in the Metro Region, the possibility of us overflooding a course and having to shut teams out of a tournaments was not a risk we were willing to take, and so we decided to split off the southern-located Metro teams in to the new Philadelphia Region. Not only will this new region reduce travel time for new teams starting up in Philly, but also help new teams in the Metro Region as well. For example, last fall we had a tournament at Sand Barrens in southern New Jersey, a 3-hour drive from NYC but only an hour and a half for the current Philadelphia teams who will be competing there on October 18/19. The first Philadelphia Region will be held at Inniscrone on Oct 4/5, this location is slightly north of the region's most southern team, the University of Delaware.
Southern New England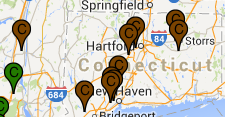 With the influx of teams starting up in the Boston and Connecticut areas, we were looking at having over 20 teams competing in Boston and Rhode Island and thus decided to break out Southern New England to help keep the tournament size in check and also accommodate new teams in Connecticut who wouldn't have been able to travel long distances to compete. A handful of nationally renowned institutions are joining the NCCGA Southern New England Regions this fall including UCONN, Quinnipiac, Yale, University of New Haven, Trinity and potentially Eastern Connecticut. These new teams will be competing against current Connecticut-based NCCGA teams such as Southern Connecticut, Sacred Heart, and Central Connecticut.  Leading this new region is Joe Catalina of Southern Connecticut. When I told Joe that we were contemplating starting up this new Region, Joe texted me, "I'm here to help out in any way," and I knew he'd be a great guy to fill the leadership role. I really enjoyed meeting Joe at last year's New England Regional at Shining Rock and was impressed by his ability to pull together a team with little school funding.  I look forward to working closely with Joe on this new Region and getting to know all of the club presidents making moves to start great programs that will be involved in the NCCGA for years to come.
Pacific Region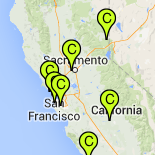 Although the region nearly originated last spring, the Pacific Region will formally begin this fall headlined by Cal Berkley, Stanford and Cal Poly. The NCCGA originated in the Southeast and is currently operated out of Boston, so our westward expansion has been a gradual process. We expect many great things from these new west-coast powerhouses and hope that they make a splash at the #RoadToRabbit fall national championship.
Ozark Region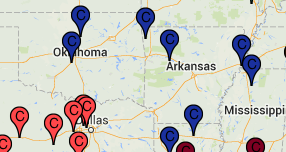 Located at the general intersection of Arkansas, Louisiana and Texas, we are thrilled to welcome big-name schools such as University of Arkansas and University of Oklahoma to this new Region.  Also competing in this region will be handful of new northern Louisiana schools that wouldn't have been able to make the travel to the more east-centric located Gulf Region (formerly based out of  New Orleans). Leading the new Ozark Region is Josh Oestricher of Oklahoma State University.  A special thanks is owed to Josh and his teammates for making a temporary sacrifice to their strong rivalry with teams in the Texas Region (where they previously competed) to help form new relationships with teams in Oklahoma, Arkansas, and northern Louisiana that they will now compete against.
Student Leaders Stepping Up
What's most impressive our growth is the willingness of students to step up and take new leadership positions on a moments notice.  Without our students taking such initiatives, dozens of brand new teams wouldn't be able to play as they typically receive no funding in the first semester and can't travel long distances and stay over night to compete.
Want Help Starting an NCCGA Team on Your Campus?
I'm thrilled about our ability to start these new regions and the willingness of our students to step up and take on these challenging new roles. That is not to say that all positives will stem from the new moves. Some regions will be smaller and new rivalries will have to be formed. Inevitably some will be displeased and I apologize to all who feel that they were not properly consulted with or didn't have the chance to voice their opinion about the region changes.
I only ask that each of you think about the positive experiences you have had competing in the NCCGA, and know that any and all changes we make are to help young guys and gals like you continue to play the game we all love.
**Mike Belkin is the Director of College Golfer Happiness. Contact Mike @MikeBelkin11 on Twitter.