It's officially fall, which means that club golf across the country is fully under way. I recently had the privilege of speaking with John Conley '86, who is the head coach of the NCCGA #24th ranked Providence College Friars. Providence previously had a varsity golf team at the school, and Conley was a member. However, due in part to Title IX requirements, the school dropped the men's baseball, tennis, and golf programs in 1998. The loss was short lived though, as Providence now fields a competitive and successful club golf team.
Q: How long have you been involved with the golf program at PC?
I was a member of the team in the mid-80s when they were still a varsity sport. Then two years ago the head coaching job opened up, and I have been coaching ever since.
Q: You have played both varsity and club golf. Do you notice any differences?
No, there are no differences. We act as any other varsity team would act.
Q: Do you have any hopes or expectations for this season?
We would like to win the New England Club Championship, and return to NCCGA Nationals. Anything short of that would be a disappointment. Last year's playoff run was something our team will not forget, and I think we have a good shot at getting back.
Q: What are some challenges that your team faces this upcoming year?
Over the off-season, we lost three seniors who were major contributors to the team. It will be difficult to replace them, but we have a solid group of young players with a promising future. UCONN is also forming a team this year, and they should be a formidable task.
See how your school can join the NCCGA
I also had the privilege of speaking with Peter DiCenso, who is a member of the team.
Q: Did you play golf in high school? If so, how does it compare to club golf in college?
Yes, I was fortunate enough to play all four years in high school. There are not that many differences between college and high school golf, other than the level of competitiveness. There is more talent at this level, which drives us to get better every practice.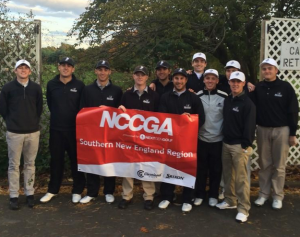 Q: Why did you decide to play club golf?
Club golf is definitely less of a commitment in comparison to varsity golf. I can still play the game I love, but I can also stay involved on campus with clubs and other intramural sports. I also have a lot of time to focus on academics.
Q: What are your goals for this season?
Nationals. That's it.
Once the foliage becomes on display, so do club teams across the country. They are all working towards the same goal: to win nationals. Being a New England native, I think it would be great for the sport if a New England team won it all this year. And if there is a team that is poised to do it, it is John Conley and his Providence College Friars.
**Tim Sullivan is a Sophomore at Providence College and Intern at Nextgengolf. Contact him on Twitter @NCCGA