The Colonial Region of the NCCGA has consistently beene one of the more competitive club golf regions in the country. This was on display last semester as three teams qualified for the Spring 2015 National Championship at Bryan Park (Virginia Tech, Virginia, and James Madison).
Established in the Spring 2014 after breaking off from the Capitol Region, the Colonial Region has grown to include 14 schools this Fall. The region will begin play this weekend at Ford's Colony Country Club in Williamsburg, VA.
This season's competing teams: Christopher Newport, James Madison University, Old Dominion, Roanoke, Virginia, Virginia Tech, William & Mary, Hampden-Sydney, Liberty, Radford, Richmond, Virginia Military Institute, and Washington & Lee.
Each team lost seniors to graduation, but look for new young talent to take over this fall.
"We lost a lot of our consistent scoring to graduation, however we had the most competitive and lowest scores in tryouts our team has ever seen." said Sam Jones, the Virginia Tech club president. "I expect my team to pick up right where they left off last semester."
Virginia Tech won both regional in the Spring by a combined 51 strokes to earn the automatic bid to Nationals. They were led by Tim Harwick, the individual medalist at The Crossings Golf Club and National Player of the Week.
Virginia finished as runner-up, and will be led by Matthew Ashley, the individual medalist at Packsaddle Ridge, and co-President Bryan Carter.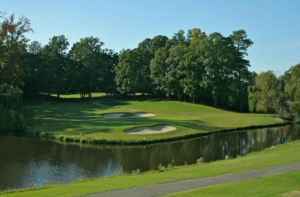 James Madison is always poised to come out on top, as their Fall 2014 Regional Championship proves. Led by President Brian Noonan, the Dukes will look to take down the Hokies. Hampden-Sydney, Old Dominion, William & Mary, VMI, Liberty, and Richmond (A & B) will all look to dethrone one of the big three.
What can we expect from the newcomer Christopher Newport? President Nick Butz has his team ready to go, and will have the added benefit of playing close to campus as they make their club golf debut.
The region begins tournament play this Saturday at Ford's Colony, and will conclude play on October 24/25 at Lexington Golf & Country Club. Click here to view tournament #1 tee times and lineups.
**Jack Stephens is the NCCGA Director of Communications. Contact him with any club golf story ideas on Twitter @NCCGABlog.