The University of Georgia Club Golf Team is a great example of a team that has grown quickly and had success in a short period of time. The club was founded just three years ago but is already making back-to-back Nationals appearances between last season and this season. This semester the club saw its membership grow to 32 golfers, their highest membership to date.
Georgia's team is led by club president Patrick Andrie. According to Andrie, there are no scheduled practices but many of the players take the initiative to practice without organized times. The 32 club members manage to have at least two foursomes playing each day despite differing class schedules and extracurricular obligations.
The club qualified for the Spring 2015 National Championship, despite finishing in 2nd place at both regional tournaments. This was due to the regional champion, Clemson, receiving an automatic invitation as defending champions. This season though, the Bulldogs earned it in convincing fashion. The team won both tournaments by an average of 12 strokes, and enters the championship ranked #7 in the country.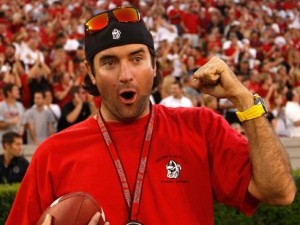 As with many club golf teams, Georgia faced problems getting enough funds to pay for tournaments this year. Andrie said that the club does not receive very much funding because they are a newer club sport. However, he found a way to raise enough money for the team to still play at Nationals. Andrie reached out to Chris Haack, the varsity golf coach for Georgia, and golf alumni of the University of Georgia to help raise money. Through Haack and former UGA golfers, he managed to receive signed photos from Russell Henley, Brendan Todd, Bubba Watson, and a few other PGA Tour players, which the club will auction off to pay for Nationals.
Andrie described his team as always being up for a good time and never taking anything too serious. At their first regional tournament , the team went out to dinner in what appeared to be a retirement home. At some point during the evening, some of the club members got up from their seats and began dancing with some of the senior citizens. Just your average club golf trip.
Learn More about the NCCGA National Championship
Looking forward to Nationals, Andrie believes that his club has a legitimate shot to win the title. He and the rest of the team hope to emulate the play of the PGA Tour players who made their trip to Nationals a reality, and seek to follow in the footsteps of their UGA varsity counterparts (who have won two National Championships) and bring the championship trophy back to Georgia with them.
**Nick Heyrman is the NCCGA's Director of Tournament Operations. Contact him on Twitter @NCCGA.