The Southeast Region is gearing up for an exciting weekend in Calabash, NC at Farmstead Golf Links and Meadowlands Golf Club, two sister courses that wind along the North Carolina/South Carolina border.
Georgia Southern University will be making their club golf debut at this event which will only add to the competitiveness of the already strong tournament field. The region includes teams such as: Clemson, Georgia, PGCC - Hilton Head, Golf Academy of America – Myrtle Beach, Furman, College of Charleston, Citadel, and Georgia Southern.
There has been a rivalry growing within this region over the past several semesters which is no surprise seeing as to the region is home to two teams that are both preseason ranked within the top 15 in the nation.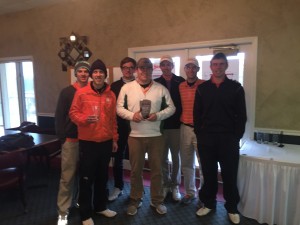 Clemson and UGA, preseason ranked 4th and 14th respectively, hold each other at such a high standard in the regionals that it has resulted in one of the two teams winning the region and moving on to club golf nationals for each of the past 5 semesters, 2 of which hosted both teams.
No doubt both teams have one common goal in mind for the semester and that is to qualify for the National Championship that will be hosted at TPC San Antonio in November. Look for these two teams to continue with their friendly friction in the hopes of beating the other teams in the region and taking an early front runner position for the Regional Champion.
Always a threat to dethrone the top team is Golf Academy of Myrtle Beach, coming off a strong debut semester that saw two individuals qualify for Nationals. Citadel, College of Charleston, and Georgia Southern club golf also have a trophy in their sight, and won't let the champion have an easy path to the top.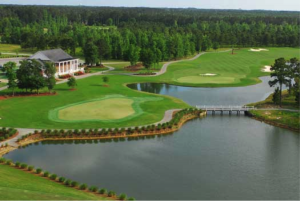 The 60 participants in the first tournament will be displaying their skills on the Farmstead Golf Links on Saturday with tee times beginning at 12:12 pm. On Sunday, the players will be on the Meadowlands Golf Course about a mile away from the Farmstead.
Both courses have their fair share of character but the Farmstead possesses a feature that most will not encounter again---a par 6. The 18th-finishing hole has more personality in it's wearisome 767 yards than most courses have in their entirety. The tee box of this beastly hole is in South Carolina while the green resides in North Carolina. Keep a lookout for this mammoth hole to play a pivotal role in crowning a champion.
The region will conclude regional play on October 24/25 at Greenwood Country Club. Click here to see tee times and lineups for tournament #1.
**Ethan Lambert is the NCCGA Southeast Regional Coordinator. Contact him on Twitter @NCCGASoutheast.