This season the Pacific poses a challenge of the old and the new. Similar to season's prior, the Battle of the Bay continues in the NCCGA Pacific Region. West Coast powerhouse, Stanford, hopes to bring back yet another Pacific Region title and grab an automatic bid to nationals. Led by president Spencer Savitz, and the returning medalist Chris House, the Stanford team has a solid core line up that is ready to compete with any team in the nation.
Across the bay bridge however, things seem to be stirring up for the California Golden Bears. After two impressive showings at the last two tournaments , the Bears hope to build on their success and cut the few strokes they needed to just edge out Stanford last season. Matt Briggs, president of the Cal Club golf team had this to say about his team, "I've watched this program go from 5 guys who just wanted to play golf, to having a legit chance at a bid to nationals. I'm really happy with the teams success so far, and I think with our returning players, as well as newly recruited players we can definitely put on a great show at this coming tournament."
Missing out? Start a club team today
The Cal team got edged out by Stanford by an average of 5 strokes at both regional tournaments last season. Its always a great battle when Cal and Stanford come out to play, and it will be interesting to see who comes out on top in the Bay Area.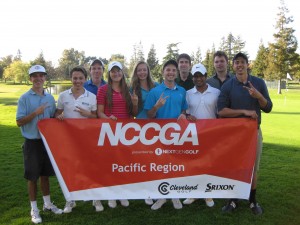 This season the Pacific region is also looking to bring new teams to this upcoming regional tournament. Cal Poly San Louis Obispo will be playing in the second regional tournament. This will be the first time Cal Poly SLO has competed in Pacific Regional tournaments since fall 2014, where they took home a 1st place medalist, Trevor Cassidy. They hope to continue with their great success and add to what already is an interesting Pacific Region. The Pacific Region is also excited to bring new faces into this tournament where individuals from Bronco State and UC Davis seek to make a name for themselves in this competitive region.
As the Pacific Region continues to grow, so do the expectations that come from such a young region; number of competitors get higher, scores get lower, and the game gets even better. It's the start of a new season here at the Pacific Region, with some familiar faces and some new ones. Although it is uncertain who will come out on top, one thing is clear, we're in for a good showing in the Pacific Region.
Gulf Region
The Gulf Region welcomes four teams to the first tournament of the semester this weekend at Oak Wing Golf Course in Alexandria, Louisiana. The club golf team at LSU-Alexandria returns after taking the Spring semester off. The Generals will have homefield advantage this weekend. Joining them will be Louisiana Monroe, led by Regional Coordinator Jacob Stokes, and new team Louisiana Tech. Rounding out the field will be the defending champions LSU. Fresh off a trip the the Spring 2015 National Championship as a wildcard, the Tigers are led by Cody Maxwell.
Mountain Region
Last weekend at Buffalo Run Golf Course, the Buffaloes from Colorado-Boulder ran away with a narrow victory over newcomer Colorado State. Ryan Crane earned individual medalist honors from Colorado State, and thinks that CSU can make a run at Boulder for the nationals bid.It should be a tight match, with the reward being a bid to TPC San Antonio.
**Jack Stephens is the NCCGA's Director of Communications. Reach him on Twitter @NCCGABlog.
**Christian Aguinaldo studies at the University of California-Berkley. He is the NCCGA Pacific Regional Coordinator.