Written By: Travis Richardson | @travis_richson
The Spring 2016 NCCGA season continued this past weekend with three more tournaments taking place along the warmer regions. Three members of the Preseason Top 15 were in action, and only one of those club golf teams emerged victorious in the first tournament of the season.
As a reminder, the winner of the first tournament of the season receives six qualifying points. Second place receives three points, and third place receives one point. The team with the highest number of qualifying points after both tournaments receives the automatic bid to Nationals (if a qualifying region).
To learn more about how to qualify for Nationals, check out our recent blog article.
South Region
Rain forced the South Region club golf teams to wait a week before starting their Spring season at Cider Ridge Golf Club in Alabama. The rain was gone but the wet course conditions proved an extra challenge for the six teams in attendance. All teams spent the first round figuring out the course, none scoring below 400 as a team. The second day was a different story. Alabama found a way to tame the course and fired an impressive 385 as a team to win the tournament by 14 strokes over 2nd place Auburn. Tennessee finished in third with a 827 for the tournament.
Alabama was led by medalist Hunter Labanz's 76-75-151, as well as five team members on the All-Tournament team: Anthony Celiano (2nd), Cole Becker (4th), Nicholas Fedchock (6th), and Noah Beatty (8th). Auburn was led by Chase Hawthorne (3rd), and Tennessee by Grant Thorpe (5th) and Daniel Stone (7th).
The next South Regional tournament will take place April 2/3 at River Islands Golf Club in Kodak, Tennessee.
Ozark Region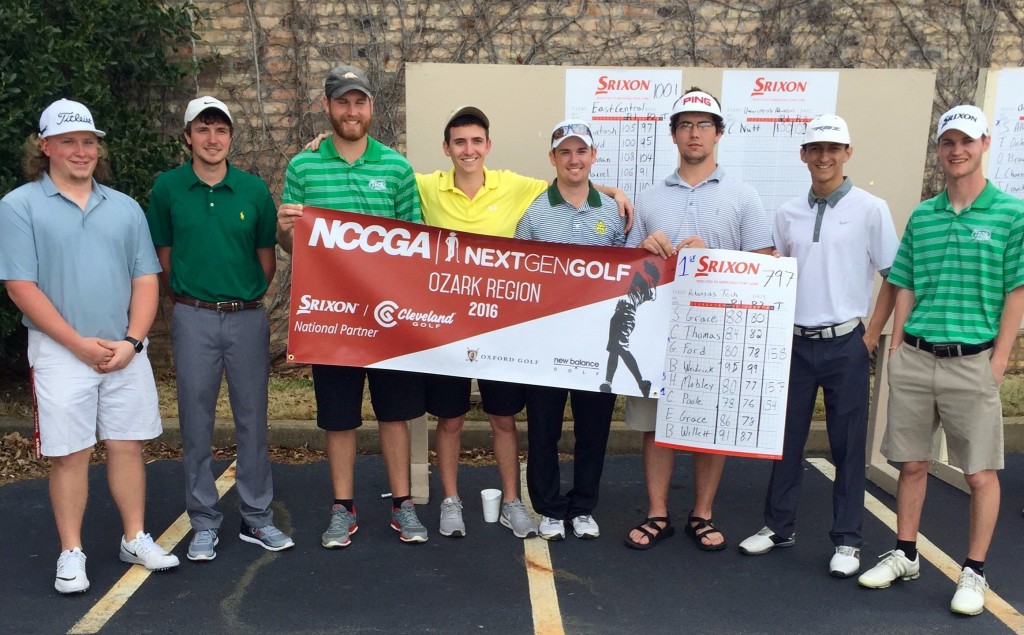 The Ozark Region was tied atop the leaderboard after Round 1 at Hot Springs Country Club in Arkansas. Oklahoma and Oklahoma State both shot a team score of 402 to lead the field. But third place Arkansas Tech, defending regional champs, were looming only six shots out of the lead.
The deficit proved surmountable as ATU took advantage by firing a 389 team score to finish in first place by 5 strokes over OU. They improved their score on Day 2 by 19 strokes from Day 1 to take home the trophy. Oklahoma State finished in third at 811, followed by East Central at 1001.
Collin Poole lead Arkansas Tech as medalist with a 78-76-154, joined by Hunter Mobley (3rd), and Garret Ford (4th) on the All-Tournament team. Oklahoma was led by Peyton Sanders (5th), Carson Meeker (7th), Kyle Story (8th). The Cowboys were led by tournament runner-up Stephen Allen, and Taylor Onley (6th).
The next Ozark Regional tournament will take place April 2/3 at Coffee Creek Golf Course in Edmond, Oklahoma.
Pacific Region
The Pacific Region had an upset this weekend, as the University of California-Berkeley club golf team knocked off Stanford in an 18-hole tournament (shortened by daylight). Stanford was the 3x defending regional champions and entered the event preseason ranked #3 in the country.
Cal edged Stanford by just two strokes, 405-407, and were led by medalist Tanner Choate's 75. Sebastian Cardenas (2nd), Jisoo Keel (3rd), and Armando Herrera (4th) led Stanford, and Matthew Nicoletti (5th) of Cal rounded out the All-Tournament team.
The next Pacific tournament is April 2/3 at Metropolitan Golf Links in Oakland, California.