The NCCGA continued tournament play as the North Carolina, Gulf, and Colonial regions all started their #Battle4Bryan campaigns last weekend. Conditions were tough and scores were tight, making for exciting Regional Tournaments.
North Carolina
This weekends tournament took place at Whispering Pines Country Club. According to Regional Coordinator Greg Henion, Whispering Pines is one of the toughest courses the North Carolina region or maybe the NCCGA has seen. He said, "What was tough were the narrow tee shots that required precision every shot and the quick greens. A typical tap in putt from 2 feet can turn into a 5 foot putt at anytime if missed. This was true for both the "River" and "Pines" Course."
North Carolina is one of the most exciting regions this year. Of the 10 teams, half of them are competitive enough to place in the tournaments. This weekend scores were close. NC State won the tournament with an 836, but there were five other teams within 23 shots of that winning score. Eastern Carolina University finished 2nd with 842, High Point Univeristy 3rd with 852, Duke 4th with 857, Wake Forest Men's 863, and Wake Women's 945. Zachary Burket competed as an individual from UNC Charlotte and won the tournament with a 79-74 for a total 153. Ben Meadows of NC State and Charles Gonet-sedillot from Wake Forest Tied for 2nd with scores of 156. Follow this link for the rest of the North Carolina Regional Scores.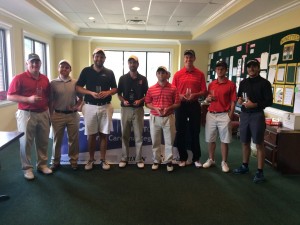 The women from Wake Forest continue to improve and establish themselves in the NCCGA. Mark your calendars for April 11-12 to see who will come out on top in this region's second regional tournament.
Gulf
LSU once again took home first place in the Gulf Region with an authoritative victory. University of Louisiana Monroe was led by Gulf Regional Coordinator Jacob Stokes. LSU was led by 1st and 2nd place finishers Joshua Orsulak and Charlie Rowell. Andrew Del valle of Tulane played well and finished the week 3rd, only three shots behind Orsulak.
The Gulf Region will finish their regional tournament play April 11/12. As of now it seems that LSU has what it takes to repeat as regional champions. Let's see if Tulane, Louisiana Monroe or another club can mount a comeback and dethrone the tigers as Gulf Regional Champs.
 Colonial
Virginia Tech was the team to beat this weekend in the Colonial Region. They outplayed the field with a total team score of 787. University of Viriginia, James Madison, and Hamden-Sydney were all in the mix as well. William and Mary finished fifth and Old Dominion sixth. The individual leaders were an impressive bunch. Four of the six schools were represented in the Top 10. Tim Harwick of VA Tech was medalist with a 152 and Matt Ashley of UVA was one stroke behind him. You can find the rest of the tournament scores here.
Regional Coordinator Ryan Walker had this to say about the event, "Overall, the course was in great shape. The Crossings and the staff, especially the head pro Jimmy Napolitano, were very helpful. I can't thank them enough."
Walker is excited for the second tournament because of the heated rivalries between the Colonial schools. It will be a dramatic second tournament in the Colonial region.
Join the #ClubGolf Conversation
What's Ahead
This week will be the 6th weekend of club golf touranments for the spring 2015. We are only 5 weekends away from the much anticipated #Battle4Bryan. Things really heat up this weekend in the NCCGA as 14 Regions will be playing across the country. Don't forget to keep using social media to show off your regional tournaments.
**Jack Stephens (@NCCGABlog) is the Director of Communications.