The Metro region was host to two very close finishes this semester, with teams separated by under ten strokes. Once all the dust settled, standing on top was Lafayette College club golf. The Leopards won both this season's regional tournaments to earn its bid to the NCCGA National Championship at TPC San Antonio. After missing the qualification to Nationals last spring by just two strokes, the Leopards came back hungrier than ever.
Leo Massimino, treasurer of the club golf team, was able to talk to us about the efforts they've made this semester and what they're looking forward to in San Antonio.
You've made tremendous improvements since your last season. How did your team achieve its success in the past two regional tournaments?
We just have a lot of guys who play solid. Everyone really wanted to come out and prove that we were capable of winning a regional championship this semester and we were able to do it. It's just a matter of knowing that you're capable and performing the way we know we can. A couple of guys really put in hard work on the range this summer after getting the rings taken off our fingers last semester. A lot of calluses were formed. That's what this team prides itself on.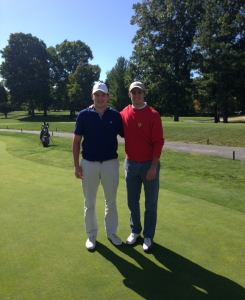 What would you say sets you apart from other teams that will be competing in Nationals?
Our guys really know how to keep it loose on the course and enjoy themselves. I think you play in some of these tournaments and some kids don't realize that we're all here to have fun. We'll definitely have the most fun of any team in San Antonio. Oh yeah, we've got some kids that can just flat out compress the golf ball too.
What are you looking forwards to and what are your goals for the National Championships?
I'm looking forward to playing on a course where a lot of great champions have won. Jimmy Walker is a real idol of mine. We're also looking forward to checking out all that downtown San Antonio has to offer. As far as our team goals its pretty simple, we're here to win a National Championship.
Considering your participation two seasons ago, is there anything you are changing about your preparation for Nationals this time around?
Dancing Rabbit was definitely a learning experience for us. There were a lot of travel issues that we ran into and hopefully we won't face the same setbacks this time around. As far as golf goes we've been fortunate to have nice weather up here for the past month so our boys have been putting in the hours on the range and on the putting green. I feel that we're a more prepared team that has a real shot at the title. I really believe in my heart of hearts that we can win. A real Cinderella story.
Learn More about the NCCGA National Championship
Are there any teams in particular that intimidate your or that you feel strongly about beating?
Well we certainly aren't intimidated by anyone. This team might have some of the longest hitters in the nation so we should be the intimidators out there. As far as a team we'd like to beat, SUNY Cortland is at the top of the hit list. We had a pretty competitive battle with them at Dancing Rabbit and we want to continue showing them that we're the kings of the Northeast.
Is there anything you would like to add about yourself or the team?
The team is very thankful of the NCCGA for the opportunity to play in such a great tournament at a fantastic venue. Look for us to be at the top of the leader board come Sunday evening. Roll Pards!
**Olivia de Fouchier is the NCCGA's Director of Women's Golf. Contact her on Twitter @NCCGA.