The South and South Florida Regions brought warm weather and lots of good golf this Fall. Now the two regional champions are rolling into TPC San Antonio, hoping to come out on top. Here's the story of how Keiser University and Auburn Club Golf advanced to the Fall 2015 NCCGA National Championship.
Keiser University
The Keiser University Club Golf Team, despite being one of the smallest club, consistently outperformed many of the largest club golf teams this season. Frank Longabucco, the club's coach, stated that the team consists of only 10 players. Even with the small number of players, Frank managed to get the most out of his team this season. One way that Frank kept his players sharp was by having constant qualifiers for his players to remain on the competitive team.
Additionally, most of his players are only in their first or second year of college because Keiser University offers associate's degrees to its students, which are typically two-year programs . Thus, Frank has a completely new team every two years. However, Frank has been quite successful as a coach, leading Keiser to  the National Championship in 5 straight seasons (including this fall). Despite their success, none of the players on Keiser's team have played at Nationals due to class conflicts.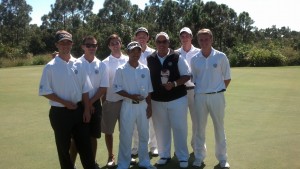 Frank stated that two of the hardest challenges his team faced were qualifying for Nationals in the highly contested South Florida Region and ensuring that his players would not have to miss school to travel to tournaments or practice. Keiser currently ranks 14th in the nation thanks to a team score of 365 (+5) on the second day of the first South Florida Regional tournament.
Daniel Pachon Vargas, the team's lowest scorer (who played in both tournaments), leads the charge for Keiser while four of their other players have also posted two-day totals of less than 10-over par. Coach Frank Longabucco told me that the best moment of the season for his team so far was when they collected their first place trophies at the second tournament, knowing that they had secured a bid to Nationals. Although they are not ranked in the top-10 in the nation, Keiser may be a good dark horse pick for Nationals coming out of the South Florida Region.
Auburn University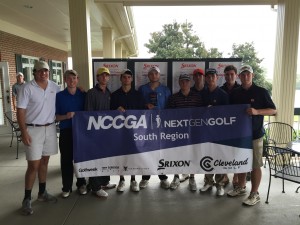 Despite only being in its third semester of existence, the Auburn University Club Golf Team has already qualified for Nationals twice. Led by club president Chase Hawthorne, the club practices every Sunday with the goal of a National Championship in mind. Chase managed to recruit players of all ages over the past year including one
graduate student (who played NCAA Division I golf for Alabama State), one senior, two juniors, one sophomore, and three freshmen. The club only brings one team to tournaments, but that is all they need because of their strong presence in the South Region.
Chase believes that Auburn will be a contender at Nationals because they have a couple individual state high school champions and a Cleveland Golf/Srixon All-American from last year. Daniel Park, a graduate student who won the honor of being a All American last year while at Alabama State, headlines Auburn's team that finally has all of its top players together for one tournament. Auburn's mentality of "Grip it and rip it," is reflected in Chase's favorite memory from the season. At one of their regional tournaments, Chase observed a teammate on an adjacent hole snap hook a tee shot into the woods and his playing partner toss him a ball, which he managed to tee up before the first one hit the ground.
Learn More about the NCCGA National Championship
This confidence that the next shot will be great is why the Tiger's mental game is on point. Getting
to Nationals, however, was not easy for the Auburn team. They played two tough courses for their regional tournaments and persevered despite not having a few of their key players. Auburn University's club team has a good combination of experienced veterans and eager freshmen that plan to make a run at the National Championship.
**Nicholas Heyrman is the NCCGA's Director of Tournament Operations. Contact
 him on Twitter @NCCGA.