South Carolina's journey to a National Championship began last Fall, at TPC San Antonio. The Gamecocks had big ambitions, entering last season's nationals as the #4 ranked team. Unfortunately, travel issues knocked the team from contention.
The Gamecocks weren't gonna let that happen again.
South Carolina posted a wire-to-wire victory in the Spring 2016 NCCGA National Championship, securing their first ever club golf championship at The Resort at Glade Springs.
The Gamecocks took a first round lead by 4-strokes, led by Brian Weaver's 73 and Ford Blanchard's 74. A first round that was more defined by the weather then any team's performance. A 5-hour fog delay halted all play during the round, before play was allowed back out to the course just a couple hours before sunset.
Florida and Stanford were tied for second place after the round at 383, followed by Golf Academy-Orlando in fourth, and Alabama in fifth.
I wasn't expecting it to be that cold today, so it definitely played a little harder than I thought with the fog delay," said Weaver.
The second day opened to beautiful weather, setting the stage for low scores. South Carolina and Florida drew the last pairing on the Stonehaven Course, setting up a tight finish.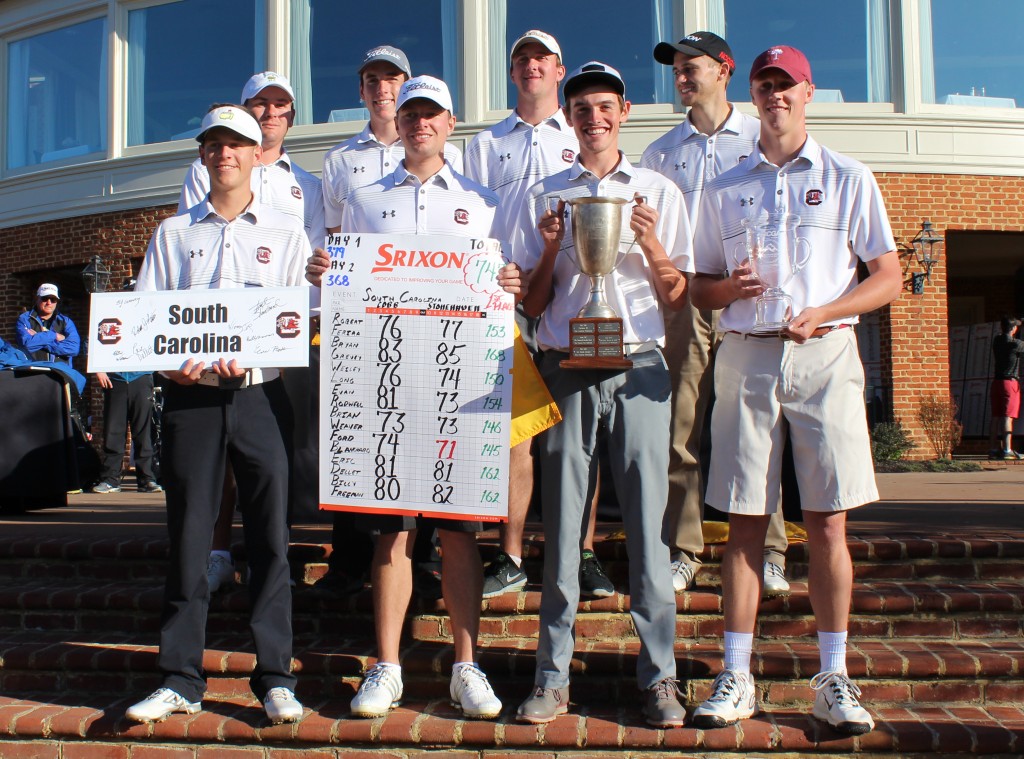 Stanford entered the clubhouse first, posting a team score of 386 to set the mark other teams had to top. As teams waited for the final groups to roll in, the buzz started to build. South Carolina went low.
Ford Blanchard - 71
Brian Weaver - 73
Evan Rodwell - 73
Wes Long - 74
Robert Ferira - 77
The Gamecocks posted a team score of 368 in round 2, only two strokes away from the National Championship record, and 8 strokes better than the next closest team in the round. The pair of Blanchard and Weaver propelled the team over the weekend, as the playing partners placed 2nd and 3rd individually.
"I played pretty good today and loved playing with Brian out there," said Blanchard. "We really fed off each other and had some great team chemistry going."
Alabama came in second with a 764, their highest nationals finish in club history. Stanford (769) finished in third, followed by James Madison (771) and Golf Academy-Myrtle Beach (771).
Lewis Sets Nationals Record En Route to Medalist
The medalist honors were wrapped up in impressive fashion on Day 2. Zac Lewis, an individual representing NC State, fired a NCCGA National Championship record 66 on the second day to claim the top spot.
Lewis bested Corey Stamper's 67 from the Fall 2014 tournament. Lewis finished the tournament at 2-under par, shooting a 76-66. Blanchard finished in second with a 74-71-145. The rest of the all-tournament team:
3) Brian Weaver (USC) - 146
4) Ethan Heim (GAA) - 147
5) Brian Burt (HSC) - 147
6) Hunter Labanz (Alabama) - 148
7) Robert Libiszewski (Keiser) - 148
8) Brian Noonan (James Madison) - 149
9) Daniel Childress (GAA) - 149
10) Zach Capel (GCU) - 149
11) Wes Long (USC) - 150
12) Zach Pallis (High Point) - 150
13) Austin Havens (ISU) - 150
14) Wes Smith (James Madison) - 151
15) Tyler Allen (UNF) - 151
16) Dan Robinson (UCF) - 151
Fall 2016 Nationals Location
The end of the Spring 2016 National Championship means the countdown to next season's tournament begins. Where will the tournament take place? Stay tuned....