304 players, 37 teams, 21 individuals, 1 Bryan Park.  The NCCGA's unprecedented growth has once again encouraged us to increase the field size.  Adding 64 players to the field compared to the Fall National at Dancing Rabbit, April's club golf spotlight will shine on Bryan Park Golf Center for the 2015 Spring National Championship  in Greensboro, NC.
If you're doing the math in your head, you may be saying 304 players sounds like a lot of players for a weekend tournament.  How could we ever enforce a #ReadyGolf 5 hour round or less?  I have worked with the NCCGA Director of Tournament Operations Nick Heyrman to create a format most conducive to fast play.  Instead of the traditional shotgun start, we will have morning and afternoon split tees on both the Champions and Players courses.  We are very excited to have our first National Championship with tee times, allowing for player announcements on the starting hole as well as a compelling Sunday afternoon of competitive play as the best teams from Saturday will tee it up in the afternoon wave.
Bryan Park was the site of the first National Championship I attended back in the fall of 2010. Alex Harris captured Medalist with a score of 69-74 – 143 while Coastal Carolina ran away with the title with a solid team scores of 747. It's exciting that 10 National Championships later, we are returning to one of my favorite courses.
For those of you not familiar with the courses, be prepared for a host of risk/reward shots.  The Players course, the easier of the two tracks, requires players to hit solid approach shots on the front nine and accurate drives on the back nine.   The course will play at 6794/5609 yards for the men/women.
The Champions course, host of the 2010 Public Links championship in which Patrick Reed competed, is one of the most beautiful courses you will find.  Weaving through the tree-lined woods and around large lakes, this course will challenge you throughout the round.  The course will play at 6713/5475 for the men/women.
The 4th hole of the Champions course will be the Srixon signature hole.  The 137 yard, par 3 looks out over Lake Townsend, giving it one of the best views on the course.  Z-Star balls will be awarded to the best shot in every group. Players will also have the opportunity to win prizes for themselves and their team if they hit a hole-in-one.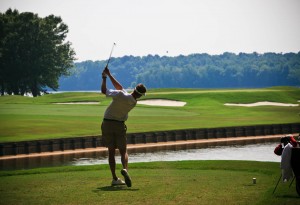 With the Spring 2015 National Championship just a two weeks away, and invitations in hand, we will see who will take on Clemson and Mizzou, the reigning champions from the fall. Bryan Park is excited and ready for the NCCGA to take over the course and see who will win the #Battle4Bryan crown.
**Matt Weinberger is the NCCGA Commissioner.