They say the odds of an amateur making a hole in one are 12,500 to 1. But what are the odds of two teammates making aces on the same hole during an NCCGA regional tournament? Pretty high if you play for the club golf team at Mizzou.
This past weekend the Central Region teed off its season in Hartsburg, Missouri at Eagle Knoll Golf Club. It was just another tournament for the University of Missouri as they began their second round on Sunday. The players were going about their business in hopes of securing the regional title. About 7 holes into the round, yelling could be heard all over the course coming from the par 3 #12 tee box. Whenever there is commotion on a par 3, everyone looks over in hopes of seeing the rare hole in 1. Sure enough Ben Woods from Mizzou drained his tee shot.
The closest Woods has ever been to an ace before then was only 2 feet or so. When asked to recall the shot, he said one of his playing partners said, "Oh! Be all over it." He thought it was going to be good, but was shocked to see the ball bounce once and then land in the bottom of the cup. It even took him a couple seconds to react after the ball disappeared. After that shot, Ben Woods was able to scratch off the coveted hole in 1 that all golfers dream about making in their career. However, he would not be the only highlight coming from the 12th hole that day.
For Mizzou, one hole in one was not quite enough. About 3 holes after the first hole in one, Thomas Berra stepped up to the #12 tee box. He hit his shot, a high draw that landed about 12 feet away from the cup. "Be the right club. Be the right club," said Tommy as he watched his ball flying toward the hole. Once the ball landed, it tracked all the way, hit the flagstick, and dropped. Berra immediately looked at his partner, threw his hat, and went absolutely crazy. This was Berra's first ever hole in one as well.
Following the second ace the Mizzou team said their group-chat amongst the A and B team blew up. Neither player had ever had an ace before, and the hole they made it on is no joke. 12 at Eagle Knoll is a 198 yard par 3 with a valley between the tee box and green. Along with a false front, there are bunkers guarding the front left and back right corners of the green. Those challenges as well as a back pin placement did not phase Woods or Berra. They both defied the odds and made their aces.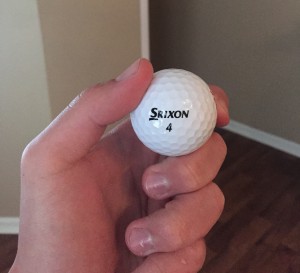 Both players plan on upholding the tradition of keeping their golf balls as trophies. Ben and Tommy were using Srixon Z-Star XV's and will definitely be displaying those to remember their aces. Two aces by teammates have never happened before in an NCCGA event, so let's see if we any other team can match or better yet top this amazing day.
Want to see all the results from NCCGA's Fall 2015 season? Visit our rankings page to see where your club team and players are ranked.
**Jack Stephens is the NCCGA's Director of Communications, and club golfer at Saint Louis University. Contact him on Twitter @NCCGA.