It's finally that time of the summer when teams start punching their tickets to the City Tour National Championship at Cog Hill. With only two cities competing this past weekend a couple teams had first crack at locking up their bids to take on the nation's best City Golfers.
Milwaukee - Washington County GC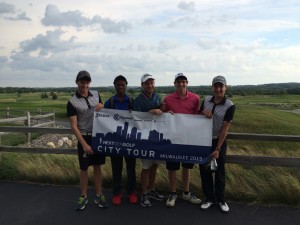 Despite the high winds and tough conditions, great scores this weekend from MSOE & CO! Congrats to the team consisting of Scott Loftus, Michael Loftus, Aaron Reckinger, Charlie, Paddock, Dane Zachman, Kevin Banks Jr., and Chris Zachman.
The team  edged out Tin Cup by a single stroke to take the victory on the day (141 vs. 142) at -3. The Ball Busters put up an admirable fight coming in at 156. Leading the way for MSOE & CO were the Zachmans firing a 67.   Representing Milwaukee at the #CityChamp will be Tin Cup.  Will they bring the inaugural championship home to Wisconsin?
Dallas - Heritage Ranch CC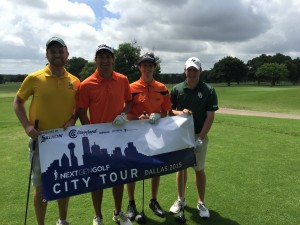 Down in the Lone Star state two impressive teams were battling it out to see who could get the automatic bid to Nationals. With another close finish the Oklahoma State University team edged out Baylor 136 (-8) to 137 (-7) to secure their berth in the National Championship.
Coming in a close third was Jesuit shooting a respectable 142 (-2). Congratulations go out to: Stephen Allen, Sam O'Brien, Joshua Oestricher, Austin Billner, Steven Shurtz, and Owen Brown. Special shout outs to the co-medalist pairs of John Wheeler/Patrick Blonien and Michael Culin/John Begzos that each shot 67 (-5). Just like in Milwaukee, Baylor is well-positioned for a possible Wild Card berth so the season is far from over.
Congratulations to all the qualifiers! We're looking forward to handing out more bids this coming weekend in Atlanta, Chicago, St. Louis, and Los Angeles. To track all the bids that have been awarded, visit the official championship page.
**Ethan Zimman is the Nextgen City Tour Director of Media and Campaigns. Reach him via email at NextgenWashDC@gmail.com.