After a soggy and eventful day 1, that saw the Cog Hill Golf & Country Club yield some low scores, you knew it would get interesting on day 2 after the courses had some time to dry out. The field of 92 players from across the country were going to need to go low to catch the team of Slice and Dice from Cincinnati, who opened play with a 131 (-13) on the Ravines (No. 2) course. Giving chase after day 1 were Shooter Magowan and Tin Cup.
However, on this day, Slice and Dice proved to be too much for the rest of the field. With birdies still dropping on Dubsdread, Slice and Dice eventually ran away with the inaugural City Tour Championship! Coming in with a 138 (-6) on Day 2 for an incredibly impressive two-day total of 269 (-19).
Cincinnati City Leader and Slice and Dice co-captain Sean Keating said afterwards, "We played really well across the two courses. We knew we were going to need to take advantage of playing the Ravines [course No. 2] on the wetter day because of the difficulty of Dubsdread. Both [courses] were in awesome condition and we were able to take advantage after the rain came through on Friday. Once we got used to the differing green speeds that helped scoring a bit." His brother (and teammate) Brian went on to say, "It was a really fun weekend and we were lucky enough to have amazing weather with near-perfect scoring conditions."
Coming in second was team Tin Cup from the Milwaukee City Tour. After being in third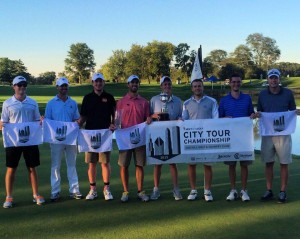 place to start Day 2 they managed to keep the momentum going to finish strong at 276 (-12). City Leader, and anchor of the Tin Cup squad Judson Bro remarked, "Yeah, the weekend was a lot of fun. Always wish we could have made a few more birdie putts to give Slice and Dice a run for their money. But, they played really well and knew it was going to take some really low scores to catch them." In addition, Judson finished T-5 on the individual leaderboard with a two-day total of 145 (+1). Not too shabby, Jud!
Coming from behind to finish in third place, was the team from Baylor with a 279 (-9). Followed closely by Shooter Magowan: 280 (-8), Oklahoma State: 281 (-7), and Delaware Club Golf Summer Squad: 284 (-4). Philadelphia City Leader and Delaware Club Golf member Matt Hahn made the 12+ hour drive from Philadelphia and said, "It was totally worth it. The entire weekend was awesome; from the Friday Night Demo Happy Hour and free custom fittings at Club Champion after Day 1 to the Srixon Closest to the Pin contest...and the 19th Hole Par 3 contest was a very cool way to finish up the weekend. It was all a blast. Can't wait until next summer!"

The Solheim Cup and BMW Championship weren't the only golf tournaments with drama happening on Sunday.
After all the scores were tabulated and the winning team of Slice and Dice was known, we did have a few competitors go back out for a 4-man playoff to decide the individual tournament winner. Stephen Allen (OSU), Sean Keating (S&D), Matt Buse (S&D), and Kaylor Steger (Tin Cup) went out to Hole 1 on Dubsdread. Coming out on top on the 2nd hole with a birdie was Sean Keating. Interestingly enough, taking home the hardware for Medalist Pair was the duo of Simran Magowan & Ben O'Byran whom shot a sizzling 133 (65-68) to be 11-under for the weekend. Followed closely by Colin Reenan & Matt Buse (-10) and Sean Keating & Brian Keating (-9).
We can't wait to see everyone next summer in even more cities across the country. In the mean time have an awesome Fall NCCGA season. We'll see you in San Antonio before you know it!
Full City Championship Leaderboard can be found HERE.