Are you a college student or one of the many young professional golfers in Cincinnati?  Are you an experienced golfer or even someone just interested in learning about the game?  If so, then you have found one of the top cities for golfing opportunities.  With golf ranges and courses located throughout the tri-state, golfers of all calibers have the opportunity to get out and enjoy the game.  This guide provides an overview of how to get involved.

1) Hitting the range – Whether you are an East Sider or a West Sider, ranges are all over the city.  Some of the top options include Reeves, which is a conveniently located just east of the city and Meadowlinks Golf Academy offers some of the best facilities in the area, being ranked by Sports Illustrated as one of the top in the country.  A simple Google search will provide a slew of ranges all around the city where you can learn the game, tune up your game, or get lessons from a golf professional.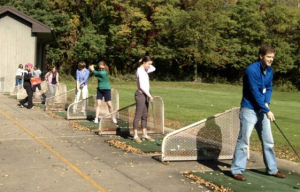 2) Finding the right course – Beyond the ample amount of private clubs in the area, public courses are even more prevalent.  For those looking to get their first experience on the course, I recommend any of the Hamilton County Park District courses, such as The Mill or Sharon Woods.  For those who want more of a challenge, Beckett Ridge and Walden Ponds offer unique layouts to test your skills.  Courses are widespread whether you are downtown, in northern Kentucky, or in the suburbs.  If you are a collegiate golfer, the Nextgen Collegiate membership provides you with an opportunity to play college rates at these courses.
3) Learning the game – The range is a great place to start.  Many ranges offer group or individual lessons to help you get comfortable with the game, preparing you to take it to the links.  I was able to first learn the game taking lessons at Meadowlinks Golf Academy.  The knowledgeable professionals were able to teach me the basics of the game, keeping it simple to keep me engaged and enthusiastic to learning the greatest game. If you are on a tight budget and are having trouble getting started, look for a Get Golf Ready clinic which offer 5 lessons starting at $99 and is sponsored by the PGA of America.
4) Getting to the course – Cincinnati is ideal for convenient travel.  Many ranges and courses are located throughout the region, all around interstates 275, 75, and 71.  For students at the University of Cincinnati or Xavier University, I encourage you to carpool to local courses and take advantage of the collegiate golf rates.
5) Playing in tournaments – If you are looking for competition this summer, be on the lookout for Greater Cincinnati Golf Association (GCGA) events throughout the area.  If you are a college student or young adult interested in summer tournaments or have in interest in leading tournaments with Nextgengolf, contact matt@nextgengolf.org. If you are not in Cincinnati, but interested in bringing golf for young professionals to your city, check out the other cities which nextgen supports. Nextgengolf City Golf