Spring Break Golf Tournament at Myrtle Beach
March 11th & 12th

Tournament Format
36 hole event
2-person best-ball format
Tournament Field
Co-ed event
College golfers and recent alumni
Awards and Prizes
Tee gifts and team prizes
Daily on-course contests
Competition
National field representing
colleges from across the US
Location & Date
911 Riverwood Drive, Myrtle Beach, SC 29576
Date: March 11th & 12th
Club Website
Minutes from the beach
Why Wachesaw East?
Nestled amid a former rice plantation in Murrells Inlet, Wachesaw Plantation East has reaped the awards you'd anticipate from a former LPGA event site. Once the home of the Kathy Ireland/Greens Competition Classic, Wachesaw East was named the 2007 Myrtle Beach Golf Course of the Year by the Myrtle Beach Golf Course Owners Association. It has also recently received honors for its fairways, customer service and playability by national publications.
In short, Wachesaw East is the complete package. Utilizing five sets of distinct tees, the Clyde Johnston design plays anywhere from 6,933 yards down to 4,995.
Lodging
Festiva's Ellington at Wachesaw
911 Riverwood Road, Murrells Inlet, SC 29576
Resort Website
Minutes from the beach
See what golfers had to say about the 2016 Spring Break event
Pricing & Sign-up Details
The Spring Break Open keeps the cost conscious college student in mind by keeping fees between $260-$352 including tournament golf, food, and lodging. Costs vary depending on the number of nights you wish to stay, rounds you plan on playing, and total number of players sharing a room. Players may choose to book their own lodging outside of the tournament.
All event packages include 2 tournament rounds of golf including cart, unlimited use of the driving range, tournament tee gifts, awards, prizes, as well as 5 meals (2 breakfasts, 2 lunches, and 1 dinner). Players have the option to add lodging at discounted rates. All state & local taxes, resort fees and gratuities are also included in the fee.
Tournament cost (no lodging)
$260 per person
Optional lodging (per night):
$250 (3-bedroom condo)

$230 (2-bedroom condo)

$165 (1-bedroom condo)
* Additional nights (costs are per room) - $250 (3 bed condo), $230 (2 bed condo), $165 (1 bed condo)
* Discounted practice rounds - $45 per round (booked directly with the course by calling 888-922-0027)
The registration deadline was February 28th at 11:59 PM EST and has now closed.
Frequently Asked Questions
What is the format?
The format of the Spring Break Open tournament is 2-man best-ball. The tournament is 36-holes (over two days), and the pair with the lowest best-ball score at the end of the tournament will be deemed the champion!
Can our group pay separately?
If you are NOT booking lodging through us, your group is absolutely able to pay separately. Simply follow the registration process and make payment! If you want to be paired on the golf course with a certain player (format is 2-person best-ball), please email springbreak@nextgengolf.org with the request.
If you ARE booking lodging through us in addition to your tournament fee, we will require one group payment. We recommend designating one person to make the payment, and the other group members writing that person a check, use Venmo, etc.
Can I receive an invoice?
Yes! If you require an invoice (many schools need one to process payment), please email springbreak@nextgengolf.org with all of your details (how many players, lodging, etc.) and we can create an invoice for you!
How many people can I bring?
There is no minimum or maximum for number of people you can bring. The format is 2-person best-ball, so if you have an odd number we will pair you with another player.
Do I have to pay for everything at once to receive the discount?
No! We are currently running a special of $20 off per player until 1/20/2017. To lock in the discounted rate, all you have to do is pay the non-refundable deposit before the deadline.
What kind of deposit is required for the package?
We require a $50 per person deposit to reserve your place in the event. The remaining balance for the event is due 30 days prior to the tournament.
Can we get our own lodging?
Yes, you can pay the tournament fee for the event and book your own lodging. Packages are customized to your needs.
Are meals included in the package price?
Yes. In an effort to provide an "all-in" package for our golfers, you will get 5 meals included in the package. Breakfast and lunch will be provided at the course each day as well as a player social gathering on Saturday evening of the tournament which includes a light dinner.
Why is the package so affordable?
The Nextgengolf Spring Break Package was designed with the price sensitive college golfer in mind. Our goal was to put together a complete spring break package for golf teams at a location which could offer great golf courses, excellent practice facilities, good food, nearby lodging as well as entertainment outside of golf. Our goal is to keep everything really simple and provide a great experience and pre-season open event for college golfers.
Can parents or alumni be included in the package?
Yes, teams will often bring recent alumni and friends of the team to play in the event.
Can we play courses other than those that are scheduled?
Yes, if you are looking to play other courses outside of the tournament, let us know and we will do our best to get you discounted rates on those courses.
What happens if it rains and we can't play?
If we are unable to play due to inclement weather, the event will turn into a 1-day tournament and 1 round of golf will be refunded.
Do we have to play in competition against other schools?
No. If you are a golf team just looking to come down and play/practice with your team, your scores can be hidden from the tournament field. This is especially important for varsity golf teams to remain compliant with their governing conference.
Is it compliant to compete against other schools?
The National Collegiate Club Golf Association is sanctioning this event. NCCGA is the governing body for collegiate club golf. For the spring break open, any varsity or club golf team is able to compete in this tournament. Since the event format is a two-person best ball, this event should not be considered a team-based competition.
Teams part of the NCAA, NAIA, NJCAA and other athletic associations need to check with their compliance officer for team compliance. This event does not count in any National, Regional, or Conference standings. The NCCGA is not held responsible for any compliance sanctions for golf teams playing in the Spring Break Open.
How many days do we need to stay?
Teams usually stay for 3-4 days. We have no minimum or maximum requirements.
What airports service the Myrtle Beach area?
International airports near Myrtle Beach, SC
Domestic airports near Myrtle Beach, SC
Contact Us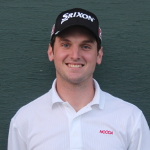 Contact us with any questions you have about the NCCGA and how you can get involved
Matt Weinberger
matt@nccga.org
(513) 277-9992