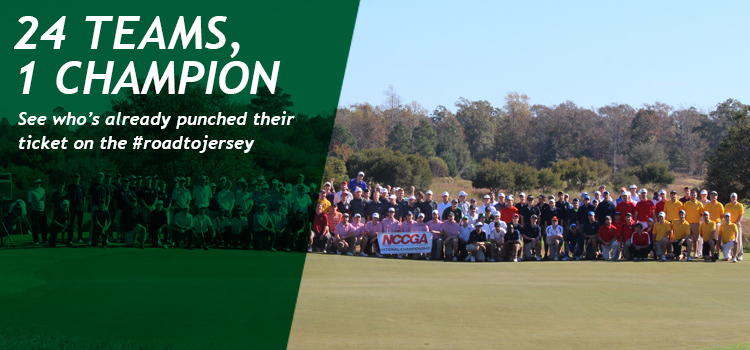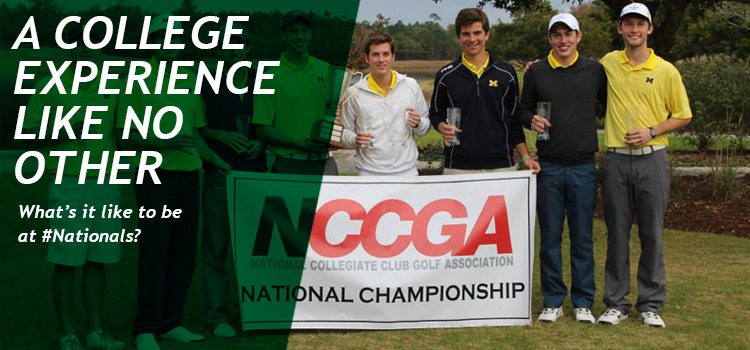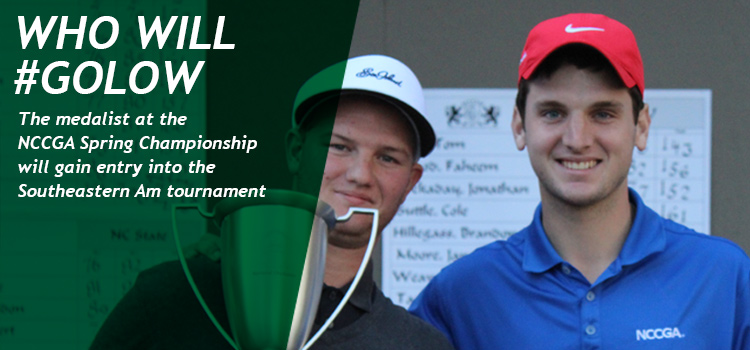 2014 NCCGA SPRING NATIONAL CHAMPIONSHIP
April 26-27 | Crystal Springs NJ
Presented by
About the Championship
History
The NCCGA National Championship is club golf's staple event capping off each spring and fall season. Past national championship sites include Pinehurst, Firestone Country Club, Barefoot Golf Resort, The Homestead and Sea Island just to name a few. Throughout the years, the fields have continued to grow. With 224 players geared up to compete at the Spring 2014 National Championship, excitement is building for the largest NCCGA tournament to date on the #RoadToJersey. The 36-hole stroke-play event epitomizes the skill and determination of club golf teams and individual competitors. Past winners of the National Championship boast outstanding scores and surely the winner at Crystal Springs this spring will prove no different.
Past Champions

Fall 2013 - University of Michicgan
Spring 2013 - East Tennessee State University
Fall 2012 - East Carolina University
Spring 2012 - East Tennessee State University
Fall 2011 - East Carolina University
Spring 2011 - East Carolina University
Fall 2010 - Coastal Carolina University
2003-2010 Champions Unknown
What are Players Saying?

While serving as the East Carolina University club golf president, I have had opportunity to compete at NCCGA National Championship numerous times. Our team was fortunate enough to win 3 National Championships at premier courses in a 4 semester span. Knowing that I'm part of a competitive, growing organization such as NCCGA inspires me and my team to play the best golf possible and continue to represent my school at the NCCGA National Championship.
- Faheem Amod, ECU Club Golf President
2014 Championship Info
Tournament Details
36 Hole Stroke Play Event (224 Players)
25 Collegiate Club Golf Teams & 24 Individuals
Saturday 4/26 - 1:30 Shotgun Start
Sunday 4/27 - 8:00 Shotgun Start
Players alternate courses each day
Press Coverage
Press Contact: David Uhrmacher
Crystal Spring Resort Info
Resort Phone: (973) 827 5996
Ballyowen Golf Course - Registration
105 Wheatsworth Rd
Hamburg, NJ 07419
Practice Rounds:973-827-5996 * 1
Wild Turkey Golf Course - Scoring
1 Wild Turkey Way
Hamburg, NJ 07419
Practice Rounds:973-827-5996 * 1
NCCGA Leadership Info
617-453-8732
Matt Weinberger - Tournament Chair
513-277-9992
Chase Russell - Student President
515-975-1179
#Journeytobetter

Join Srixon on the
#Journeytobetter
. Play a better ball and see if your skills stack up against the best club golfers in the nation in skill challenges and weekend long events.
Daily Events
Friday - Smart Square natural grass minigolf tournament 6-8PM*
Saturday - Cleveland Golf custom product showcase 8-10AM
Saturday - Cleveland Golf 70 yard wedge challenge 9-11AM*
*Sponsored prizes from Cleveland Golf & Srixon
Weekend Long Events
Hole-in-one contest on #4 Wild Turkey
Win a full set of Cleveland clubs for you and a customized Cleveland wedge and dozen Srixon balls for your 7 teammates.
Best shot in each group on #4 Wild Turkey
Win a sleeve of Srixon Z-STAR golf balls
Go Low Using Srixon
The lowest total weekend scorer using a Srixon ball will receive a year supply of Srixon balls (6 dozen)
Can You Go Low?

The Individual Medalist of the NCCGA Spring National Championship will receive an exemption for the 85th Southeastern Amateur taking place June 11-14, 2014 at the historic Columbus Country Club in Columbus, GA. The NCCGA appreciates Golfweek's securing this exemption for the top NCCGA competitor. For more information on the tournament, check out the
SE Amateur website
.
About the Course

Ballyowen Golf Club and Wild Turkey Golf Course at Crystal Springs Resort have both been named two of the top public courses in New Jersey. Ballyowen Golf Club was named as the #1 Public Golf Course by New Jersey Monthly and one of the Top 50 Public Courses in the US by Conde Nast's GolfWorld Magazine. Learn more about the courses and history.
Crystal Spring Resort website
Qualified Teams