Southern Coast College Golf Match Play
Which region will come out on top?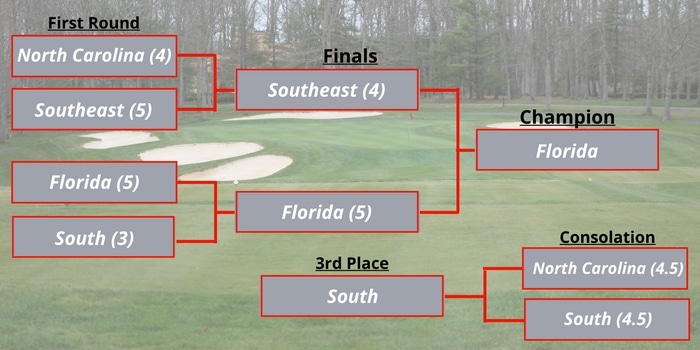 The NCCGA Match Play series of tournaments is making its debut in the Fall of 2016, and will pit four regions against one another in a head-to-head match play format. Players representing the Florida, North Carolina, South, and Southeast Regions will compete at Chateau Elan Golf Club in Atlanta on September 3/4, with one region emerging as the champion.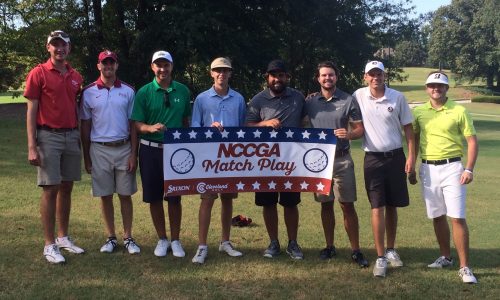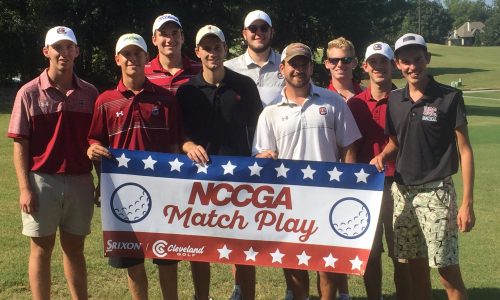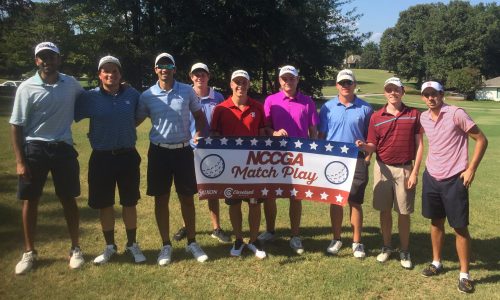 Chateau Elan Golf Club
Sep 3, 2016 11:00 am (TT),
& Sep 4, 2016 8:00 am (SG)
100 Rue Charlemagne
Braselton, Georgia 30517
678-425-0900
| | 1 | 2 | 3 | 4 | 5 | 6 | 7 | 8 | 9 | Out | 10 | 11 | 12 | 13 | 14 | 15 | 16 | 17 | 18 | In | Total |
| --- | --- | --- | --- | --- | --- | --- | --- | --- | --- | --- | --- | --- | --- | --- | --- | --- | --- | --- | --- | --- | --- |
| GREEN | 344 | 383 | 519 | 415 | 405 | 160 | 375 | 185 | 553 | 3339 | 375 | 368 | 162 | 393 | 400 | 536 | 159 | 328 | 424 | 3145 | 6484 |
| HANDICAP | 13 | 3 | 1 | 5 | 7 | 17 | 11 | 15 | 9 | | 10 | 8 | 16 | 2 | 4 | 12 | 18 | 14 | 6 | | |
| PAR | 4 | 4 | 5 | 4 | 4 | 3 | 4 | 3 | 5 | 36 | 4 | 4 | 3 | 4 | 4 | 5 | 3 | 4 | 4 | 35 | 71 |
Player 1
Player 2
Player 3
Player 4
11:00
Alex Zahn
Southeast #1
Chase Hawthorne (3&2)
North Carolina #1
Brian Weaver (Halved)
Southeast #2
Adam Messenkopf
North Carolina #2
11:08
Todd Fanning
Southeast #3
Ben Hoeschel (4&3)
North Carolina #3
Wes Long (3&2)
Southeast #4
Pearson Hall
North Carolina #4
11:16
Evan Rodwell (7&6)
Southeast #5
Adam Nivens
North Carolina #5
Matt Adler
Southeast #6
Kevin Wade (3&2)
North Carolina #6
11:24
Cooper McGee (6&5)
Southeast #7
Michael Sanders
North Carolina #7
Sean Corriston (2&1)
Southeast #8
Prasanna Kumar
North Carolina #8
11:32
Harrison Wetsel (Halved)
Southeast #9
Rohun Shah
North Carolina #9
Alex McDermand (2&1)
Florida #9
Jared Linsky
South #9
11:40
Jonathan Paulson
Florida #1
Jordan Davis (7&6)
South #1
Connor O'Shaughnessy (2&1)
Florida #2
Sterling Desantis
South #2
11:48
Brian Eidelbus (4&3)
Florida #3
Samuel Kim
South #3
Michael Hulle
Florida #4
Jonathan Teymouri (1 Up)
South #4
11:56
Evan Grills (1 Up)
Florida #5
Jake Lepler
South #5
Scotty Peterson
Florida #6
Carlos Adkisson (4&3)
South #6
12:04
Tyler Wendland (Halved)
Florida #7
Max Weyrick
South #7
Grant Manning (4&3)
Florida #8
Sam Lehman
South #8
Round 1 Recap
Southeast defeats North Carolina 5-4;
Florida defeats South 5-3
Southeast v. Florida; North Carolina v. South
Player 1
Player 2
Player 3
Player 4
8:00 am
Hole 1
Evan Rodwell
Southeast #1
Brian Eidelbus (5&4)
Florida #1
Brian Weaver (Halved)
Southeast #2
Alex McDermand
Florida #2
8:00 am
Hole 2
Wes Long
Southeast #3
Connor O'Shaughnessy (2&1)
Florida #3
Alex Zahn
Southeast #4
Jon Paulson (1 Up)
Florida #4
8:00 am
Hole 3
Matt Adler (5&4)
Southeast #5
Michael Hulle
Florida #5
Cooper McGee
Southeast #6
Evan Grills (2&1)
Florida #6
8:00 am
Hole 4
Todd Fanning (Halved)
Southeast #7
Grant Manning
Florida #7
Sean Corriston (1 Up)
Southeast #8
Tyler Wendland
Florida #8
8:00 am
Hole 5
Harrison Wetsel (2&1)
Southeast #9
Scotty Peterson
Florida #9
Rohun Shah (10&8)
North Carolina #9
Jared Linsky
South #9
8:00 am
Hole 6
Chase Hawthorne
North Carolina #1
Jordan Davis (2&1)
South #1
Adam Messenkopf
North Carolina #2
Sterling Desantis (6&5)
South #2
8:00 am
Hole 7
Ben Hoeschel
North Carolina #3
Samuel Kim (2&1)
South #3
Pearson Hall (Halved)
North Carolina #4
Jonathan Teymouri
South #4
8:00 am
Hole 8
Adam Nivens (10&8)
North Carolina #5
Jake Lepler
South #5
Kevin Wade (3&2)
North Carolina #6
Carlos Adkisson
South #6
8:00 am
Hole 9
Michael Sanders
North Carolina #7
Max Weyrick (2&1)
South #7
Prasanna Kumar (1 Up)
North Carolina #8
Sam Lehman
South #8
Round 2 Recap
Florida defeats Southeast 5-4;
South defeats North Carolina via tiebreaker (4.5-4.5)