I am shooting lower scores, but my rounds are lasting longer than ever before. Shouldn't it be the other way around? Pace of play is becoming a large issue in the world of golf, regardless of skill level. Here are my four tips to speed up pace of play and hopefully we can get people to play Play Ready Golf.
You are not a professional
The main reason why casual rounds of golf are lasting far longer than they typically should is because people are under the impression that they are all scratch handicaps and are playing for the coveted green jacket. Those twenty-foot-putts that you have for double bogey do not need to be read for five minutes. Stand behind the putt, read it for about ten seconds, and give it your best effort.
#ReadyGolf: NCCGA's New Pace of Play Policy
Do not pout after a missed shot
Too often I see people standing around after a missed shot. Occasionally you will see the Happy Gilmore temper tantrum, but more often you will see hands in the air and a confused face. Look, everyone has missed shots. My dad once told me that "all good golfers have bad memories." This means that no good will come from milling over a poor shot. You have to gather your wits and start thinking about the next shot. So next time you pull your tee shot thirty yards left into the woods, don't stand on the tee box slamming your club or throw your hands up in disgust. To be frank, it is a waste of everyone's time. Grab another ball, take out a 7 iron, and belt one right down the middle of the fairway.
Use the golf course to your advantage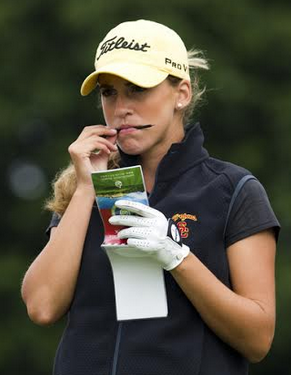 Believe it or not, golf courses are designed to help you. Yardage is typically well marked, whether it be through stakes on the fairway or numbers on the scorecard. My biggest pet peeve is those golfers who spend far too long with their rangefinders on the tee box measuring how far it is to the pin. If the scorecard says one-hundred and fifty yards to the middle of the green, and your rangefinder says its one-hundred and fifty-three yards, do the three yards really matter? I find it hard to believe that knowing that extra three yards will really help you make a birdie.
Play Ready Golf
The most important piece of advice I can give to any golfer, whether they be young or old, is to play #ReadyGolf. From shot to shot, always be thinking about the next one. After you hit your tee shot, don't check your phone or dance like you are in Caddy Shack. Grab your bag, and start walking towards your second shot. As you walk, think about all the factors that are going into your next shot. Then when you get to your ball, all you have to do is pick a club and swing away. If you are playing in a group, always be thinking about your next shot while your playing partners are doing their own thing.
As my golf game matured, so did the lengths of the rounds due to the issues above. You never see young kids standing over putts for several minutes or taking out range finders. You will however see them pouting over missed shots (you do not want to be that guy that can be compared to a pouting 10 year old.) At the end of the day, they are all out there to have fun and are ready for their moms to pick them up after approximately two hours. For the sake of your playing partners and of the game, play #ReadyGolf. The golf world thanks you.
**Tim Sullivan is a Sophomore at Providence College and Intern at Nextgengolf. Contact him on Twitter @Tsulls13