Each year the CVS Caremark Charity Classic comes to Rhode Island Country Club in Barrington, Rhode Island. This charity golf event draws a field with some of the best players in the world and is one of the most fun and relaxed tournaments of the year.  Most importantly, the CVS Caremark Charity Classic raises millions of dollars for area nonprofits.
1) Players are relaxed – Since the CVS Caremark Charity Classic is not an official Tour event, the professionals playing in the event are much more relaxed than a typical tour event. Spectators are able to get up close and personal with the players. Players will often talk to the spectators, sign autographs and even take pictures with fans. Below is a picture of me and Bill Haas.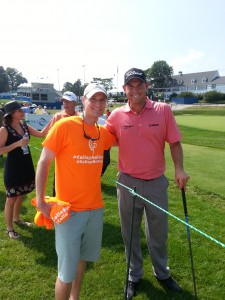 2) Affordable day of entertainment – At most major sporting events, you cannot even get in the door for under $25 and for that price, you can barely see the action. A ticket to the CVS Caremark Charity Classic only costs $25 and kids are free with paying adults. Veterans and First Responders also get free admission. The CVS Caremark Charity Classic is all about giving back so $5 from the purchase of your ticket goes directly to the charity of your choice. The tournament gives back to a number of notable charities including the American Red Cross, City Year, and Button Hole Golf Course, among others.  Since the tournament's inception, this event has raised more than $17 million for local nonprofits.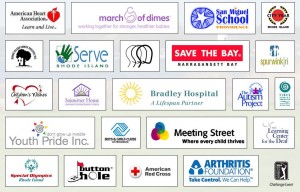 3) The field is strong – Each year the CVS Caremark Charity Classic is able to draw a tremendous field of fan favorite golfers including Peter Jacobson, Hunter Mahan, Lexi Thompson and even the famous Jason Dufner. Tell a joke to @JakeTrout or show @JasonDufner your best #duffernering pose and be sure to include #CVSClassicGolf.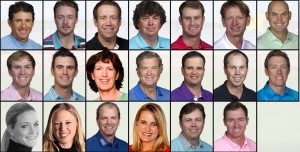 Enjoy the tournament! For tickets and additional information visit - http://www.cvscaremarkcharityclassic.com/ For tournament updates, stay tuned via twitter - @CVSClassicGolf AND #CVSClassicGolf