Boy, what an exciting few days of basketball we experienced last week! Not only did we see many "shocking" upsets (Wichita State pun!), but we also learned that no one will receive Warren Buffett's offer of $1 billion for a perfect bracket! Guess my dreams of an early retirement will have to be put on standby for now...
There is some separation beginning to show up at the top of the individual standings for #NCCGAMadness. Check out the leaderboard:
| | | |
| --- | --- | --- |
| 1 Kris Cummings | Ohio State | 540 |
| 2 Dominic Ricasoli | Duquesne | 500 |
| T3 Jason Koch | Ohio State | 490 |
| T3 Scott Terrell | Baylor | 490 |
| T3 Aaron Krueger | Wisconsin | 490 |
| T6 Chris Dillon | Notre Dame | 480 |
| T6 Drew Ricciardone | Virginia | 480 |
| T8 Tom Cox | Wisconsin | 470 |
| T8 T.J. Roberts | Tennessee Tech | 470 |
| T8 R.J. Sepich | Pittsburgh | 470 |
| T8 Tyler Piddington | Wisconsin | 470 |
| T8 John Janisse | Xavier | 470 |
| T8 Jack Totty | Virginia | 470 |
| T8 Steve Schniegenberg | Ohio State | 470 |
| T8 Mark Russell | NC State | 470 |
| T8 Dave Uhrmacher | Pittsburgh | 470 |
| T8 Adam Englehorn | Idaho | 470 |
| T8 Luke Rhyner | Wisconsin | 470 |
Kudos to Kris Cummings of Ohio State for correctly picking 14 of 16 teams correctly for the Sweet 16! Cummings managed to correctly predict the teams to make the final 16 for the West, East and Midwest brackets. Dayton and Stanford were the only teams that kept Cummings from achieving "sweet" perfection.
Oh by the way, Cummings' Ohio State squad is currently holding a slim lead over the Wisconsin Badgers in our NCCGA Madness team competition. Here are the standings:
| | |
| --- | --- |
| 1 Ohio State | 2370 |
| 2 Wisconsin | 2360 |
| 3 Baylor | 2270 |
| 4 Virginia | 2240 |
| 5 Iowa State | 2210 |
| 6 Missouri | 2140 |
| 7 Pittsburgh | 2120 |
| 8 Boston College | 2070 |
| 9 Central Washington | 2060 |
| 10 NCCGA Leadership | 2000 |
The next round of games will feature many great matchups that will undoubtedly lead to more drama. Let's take a look at them, game by game.
1 Florida vs. 4 UCLA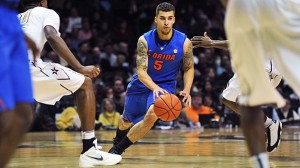 After looking vulnerable in their first game against Albany, the Florida Gators responded with a gritty win against a hot Pitt team. Meanwhile, UCLA took out Tulsa in the round of 64 and cruised past upset-minded Stephen F. Austin to reach the Sweet 16. For this matchup, it will be interesting to see how each team guards the opposing point guard. Florida's Scottie Wilbekin has been the leader for the overall number one seed, while UCLA boasts 6 foot 9 inch, stat sheet-stuffing Kyle Anderson at the point.
My pick: Florida.
10 Stanford vs. 11 Dayton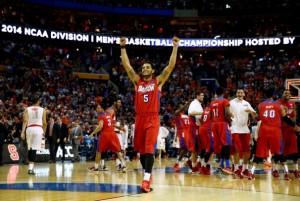 We all picked this one correctly, right?? Who would have thought this wouldn't be a showdown between Syracuse and Kansas, or a game involving at least one of the two mentioned teams. Both of these Cinderellas knocked out teams featuring heralded freshman phenoms Tyler Ennis and Andrew Wiggins. Now, a contrast of styles will face off as the lightning quick offense of the Dayton Flyers will square off against the bigger, stronger Cardinal. Whoever ends up controlling the tempo will probably end up winning this game.
My pick: Dayton.
3 Iowa State vs. 7 UConn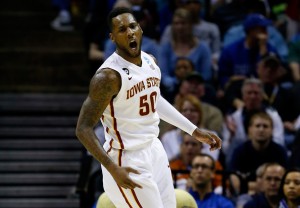 After overcoming the loss of their third-leading scorer Georges Niang, Iowa State downed blue blood North Carolina in a game with a controversial ending to make the Sweet 16. UConn captured a dramatic overtime victory over St. Joes in the round of 64, then rode the hot hand of senior guard Shabazz Napier to a win over two seed Villanova. This sets up to be an exciting game that features arguably the best two guards in the nation in Napier and Iowa State's DeAndre Kane. Can ISU keep up their high level play without Niang? Can UConn clip their second consecutive higher-seeded opponent?
My pick: 😉
1 Virginia vs. 4 Michigan State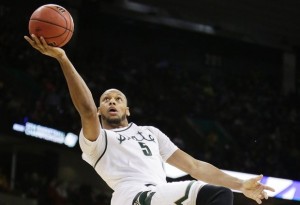 Popular national title pick Michigan State is back to full strength and handled both Delaware and Harvard easily. The Spartans were able to use their size advantage and control both of their early round games en route to their Sweet 16 berth. The Virginia Cavaliers survived an early scare from Coastal Carolina, then looked like a number one seed against a talented Memphis team. Will the ACC Champions be able to use their top ranked defense to slow down Tom Izzo's squad?
My pick: Michigan State.
2 Wisconsin vs. 6 Baylor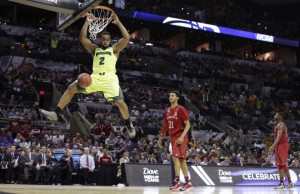 Wisconsin enters the Sweet 16 after laying a beatdown on American in the round of 64 and taking down Oregon in the round of 32. I don't know about the rest of you, but for a lot of the first half of the Wisky-American game, I was thinking it would set up to be a good finish. Man, was I wrong! The Badgers poured it on in the second half and left no doubt about the outcome. As for Baylor, the Bears may just be the hottest team in the tournament right now. No team has looked more impressive through their first two tourney games, as the Bears sent Dougie McBuckets and a good Creighton team home with a 30 point loss. It will be interesting to see how Wisconsin fares against Baylor's length and zone defense.
My pick: Baylor.
1 Arizona vs. 4 San Diego State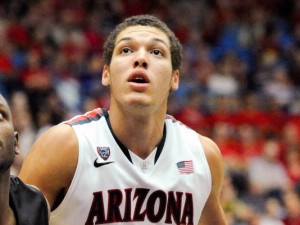 The Arizona Wildcats took care of Weber State to open the tournament and beat Gonzaga by 23 to enter this matchup with a San Diego State team that defeated New Mexico State and a very experienced North Dakota State squad. These teams met once before on November 14, with the Wildcats picking up a 69-60 victory. Anything can happen in the tournament though, so I anticipate this being a good game.
My pick: Arizona
2 Michigan vs. 11 Tennessee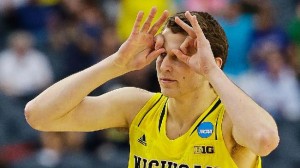 Tennessee has had to do more work to get to this point than any other remaining team. The Volunteers took down a deep Iowa squad in one of the first four games, then defeated UMass and Mercer to reach the Sweet 16. Can they slow down Big Ten Player of the Year Nik Stauskas and Michigan? The Wolverines are capable of unleashing a barrage of three pointers on their opponents and are looking to get to the Elite Eight for a potential matchup against Louisville, who defeated them in last year's National Championship game. It remains to be seen if the Volunteers can keep up with Michigan's high-powered offense.
My pick: Michigan.
4 Louisville vs. 8 Kentucky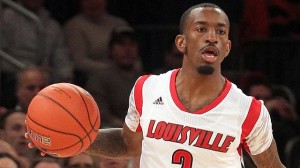 Ahh, one of the best rivalries in college basketball. Big Blue Nation enters the Sweet 16 after taking down the previously undefeated Wichita State Shockers in the best game of the tournament so far. Russ "Russdiculous" Smith leads defending national champion Louisville into another meeting between coaches Rick Pitino and John Calipari. You'll definitely want to tune into this game!
My pick: Louisville.
** Kevin Fitzpatrick is a student at Iowa State University. Disagree with one of his picks? Have something else to add? Go argue with him on Twitter! @KFitzy87