Now that regional play has concluded, the stage is set for the NCCGA National Championship. 304 players will compete at the #Battle4Bryan in two short weeks. The 36 teams and 16 individuals making the trip to Bryan Park, NC, have had exceptional showings in their regional tournaments. This weekend's play was pivotal for many teams and their National Championship hopes. Here's the Region-by-Region recaps of this weekend's regional play.
                                                                               Qualified Teams

Colonial
The University of Maryland-College Park won the second regional with a great score of 777. Towson was runner-up with a 783, and Georgetown took third with a 786.
This tournament was much closer than regional #1, and the scores were a lot lower. Although UMD won this tournament, Georgetown won the overall region in a tiebreak (lowest team score for the semester), qualifying them for nationals.
Sean Keane (UMD) won medalist on a tiebreak, shooting 150 along with Zach Knott (Towson). James Wolfe (Georgetown) took 3rd with 151.
Twin Cities
Iowa State made school history following another regional win, their second of the season. Their 798 was 24 strokes better than the Iowa who finished second. ISU was led by individuals David Stein and Jeremy Mason who posted scores of 150 and 158. However, hey finished in second and third behind medalist Patipan Pipatpinyopong of Minnesota. Patipan shot 148 to win by 2 strokes.
Ohio Valley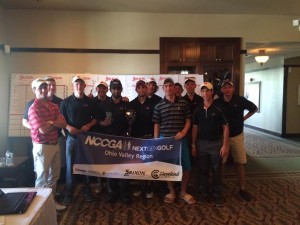 "In perfect temperatures and great scoring conditions, Cincinnati was able to pull their second Regional  tournament victory away from a very dangerous Ohio State team," says Josh Rinear, RC. Cincinnati won Regional 2 with a two-day team score of 764, qualifying them for nationals. Ohio State came in second with 768. Individual low scores are 1. Paul Wolcott (145) 2. Aidan Javed (147) 3. Ryan Denney (149)
Cincinnati is on fire heading into the NCCGA National Championship led by Aidan Javed and Ryan Denney. They came in 2nd at Nationals last year and have a chip on their shoulders to finish the job this year.
Colonial
The colonial region once again came down to a battle between Virginia Tech and the University of Virginia. Like the first regional, VA Tech was able to outplay UVA with a score of 790. UVA finished 40 strokes back at 830. Regional Coordinator and VA Tech player Ryan Walker had this to say about the season, "I am very happy with how my first semester as a RC and I'm even more proud of our team (VT) for qualifying for nationals.
This region will be well represented in Bryan Park. Along with VA Tech, Matthew Ashley will also compete as an individual in nationals. Ashley lit up the course on Sunday firing a 1-over 73 to give him a total of 151.
Desert
Despite the smaller field, there were great scores throughout both rounds in the Desert Region. The Championship Course was in great shape and they put on a fantastic venue. Arizona State University dominated this tournament from day one. They finished first with a 792 and the University of New Mexico finished in second with an 854.
ASU was led by Medalist Eric Diment (150) and individual runner-up Alec Miller who finished two shots behind Diment. The University of New Mexico was led by Thomas Avila and William Schaffer who both placed in the top 5.
Midwest
The second Midwest Regional Tournament at Eagle Eye Golf Club lived up to its hype. Michigan State won the first regional of the season by 13 shots, giving them an edge over Michigan this weekend. Michigan opened the tournament with a first-round score of 391, 8 better than MSU. If Michigan wanted to earn a bid to the NCCGA National Championship they would need to beat MSU by more than 5 shots on Sunday. Thanks to Luke Stull
Michigan pulled it off. Stull followed up his opening round 80 with a superb round of 68 for Sunday. He stated that it was the three footers that he hit all weekend to give him and his team the win. The final top 3 team scores were Michigan 766, MSU 786, and Ferris State 796. The University of Michigan is now on they're way to Nationals at Bryan Park.
Atlantic
It is safe to say a new rivalry has been established in the Atlantic Region. Penn State and Pittsburgh went at it again this weekend. Penn State edged out Pittsburgh's 765 by 1 stroke, finishing with 764. Individual play was extremely close as well.
Yohsuke Kobayashi separated himself from the field with rounds of 70-74 to win medalist with a 144. Second through fifth place were within 2 strokes of each other. Mark Biondi and Troy Kuramarohit tied for second with 149. The rivalry between Penn State and Pitt will continue later this month as they both received bids to play for the National Championship.
Great Lakes
Illinois State A came out of the gates red hot posting a tournament-low 388 on Saturday. Regional Coordinator Mason Wicks summed up this regional best. "It was fun tournament at a great course. The ISU A team dominated thanks to an unreal first round."  ISU A will advance to play at Nationals as a team.
Although ISU won the tournament as a team, Judson Bro (Bradley) won medalist honors. His 151 was good enough to beat Eric Hogenkamp and Drew Modzinski (ISU) by 2 and 4 shots respectively. Thanks to Bro's performances all season, he will also be playing in the National Championship at Bryan Park.
South
Out of the South Region Tennessee won as a team with a score of 781. Kennesaw State finished runner up with 806. As for individual play, Chase Hawthorne (Auburn) won his 3rd consecutive regional tournament with a two-day score of 144. Jonathan Taylor (Kennesaw State) came in 2nd with 150, and Malik Luckett (UT Knoxville) came in 3rd with a 152 overall score.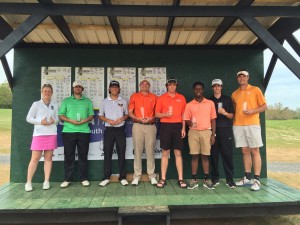 Tennesse dominated the region this semester, earning a bid to the national championship. A big congratulations to Chase Hawthorne who won his 3rd regional tournament and is now 3 for 4 regional tournaments in his NCCGA career. Look for Hawthorne to go low at the National Championship. He will be representing the South Region as an individual.
Ozark
Going into the tournament Arkansas Tech was the heavy favorite to win yet another regional tournament. However, tremendous play by Oklahoma State led by Stephen Allen helped OKState prevail over Arkansas Tech to win the tournament.
The final team scores were 1. OKState 792 2.  Arkansas Tech 795 3. Oklahoma 825. There was a playoff between Stephen Young (OKState) and Dillion Young (Ark. Tech) to decide the overall winner after tying at 149. Young won the playoff on the 18th hole with a par.
Northern New England
The University of New Hampshire won in emotional fashion with a score of 823, beating the University of Maine by 1 stroke.  UNH, who trailed by 10 strokes heading into Sunday's round, overcame the deficit to defeat UMaine. This win helped them clinch a birth to Nationals. Their team has been playing with heavy hearts as teammate Brian Colbert passed away this past winter. It was a great honor to Brian that they could win and qualify for Nationals.
The top 3 individuals are 1. Sam Grindle (UMaine) 148 2. CJ Konkowski (UNH) 150 3. Andrew Young (Northeastern) 158
Metro
Rutgers University came out on top once again in the Metro Region. Their two-day score of 847 bested the field. Lafayette College finished second with a score of 872. The real story-line in this tournament was the three-way tie for medalist following 36 holes of competition. Three players came into the club house at 166. These players were Brandon Perdon (Montclair State), Ben Lerner (Rutgers A), and Alan Woodfield (Rutgers B). The sudden death playoff began on Hole 1, where Perdon made par to secure the win.
The Metro Region played very well this semester despite the long winter and challenging weather. It was great to see Lafayette College come back this semester with a new line up that kept the competition alive.
Share Your Journeys to the #Battle4Bryan
Southern New England
After an unbearable winter, Southern NE was fortunate to have a beautiful weekend.  The winning score was from Providence with a 799, they also successfully defended their championship form the fall semester.  The runner up was Marist college with a total score of 900.  The top three individuals were: 1. David Szewczul (155) 2. Micheal Hanley (155) 3. Mitchell Stevens (156).
Despite hectic, unpredictable weather this region pulled off very good scores. Regional Coordinator Joe Catalina was proud of the region and is excited to see how Providence competes in nationals.
North Carolina
East Carolina and NC State separated themselves from the field on day 1 to see who would become regional champs. East Carolina University trailed by 15 strokes after Saturday. They came back to beat NC State on Sunday by 4 strokes. However it was not enough to take down the Wolfpack who won by 11 shots with a two day total of 797. The individual medalist went to Michael Savitt of Duke University shooting 75-73 for a total of 148. Greg Henion from East Carolina University finished 2nd shooting 76-77 for 153.
Players were challenged at Crooked Creek Golf Club. Precision was required on every shot, and it really shows how well NC State played based on the tight course. Last but not least, congratulations to the NC State University team for qualifying for the National Championship in their home state!
Florida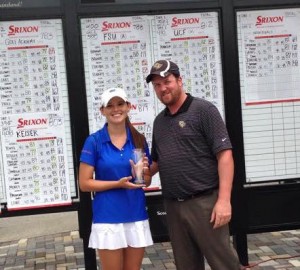 Saturdays round was a scorcher down in Florida. The temperature was 86 when the first group teed off and topped out at 91. Despite the Heat, Laura Kanouse of UF notched an opening round 69. Daniel Robinson of UCF was right on her heels turning in a 73. Team totals after day 1 were UF (373), GAA (382) and UCF (394).
UF would hold on to take the team title at 762 over GAA-Orlando 783. FSU's Brian Eidelbus shot a day-two low of 74 finishing third overall 152 as he led the Noles to a third place team finish. Laura Kanouse also held on to take medalist honors carding a 69-78 for a 147.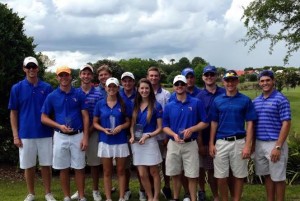 Hardworking Regional Coordinator Bill Morrison had this praise for Windermere CC and his region. "After some solid scores on day one and overnight storms, Windermere Country Club did a great job getting the course ready for us. Pins were tough on Sunday and players had to battle for every shot. It was a great event and I think the Florida region will be well represented at nationals."
New England
New England golfers were finally able to hit the links once temperatures finally rose above freezing. This season the New England area regions have undergone changes. Now, the New England region consists of Harvard, Babson College, Bentley University, Fisher College, Boston College, and Holy Cross.
After this weekend, Boston College flexed their muscles and proved they are the team to beat in New England. Their A team won the tournament with a two-day total of 782. TheBoston College B team finished second with 820. Bentley took third with 864 followed by Harvard's 899. Medalist Stephen Pfeffer (BC) won by 11 shots with a 145.
North
The University Wisconsin-Madison once again showed their strength this week. In a field of 8 teams consisting of UW-Green Bay, Stevens Point, Whitewater, Platteville, Milwauakee, Oshkosh, and Madison A&B, Madison placed first and second.
The Madison A team had a combined score of 769 and the B team 783. The overall winner of the 68-player field was Paul Lyons. Lyons competed on the B team and showed his teammates up with a 150. Tied for second were Alex Schremp and Brad O'Loughlin. Madison is looking forward to another Nationals appearance later this month.
Philadelphia
Ryan Liberty and the Philadelphia region put on a great tournament with fun competition for their second regional of the year. Six teams came to play all with high skill levels.
This weekend the University of Delaware came out on top. Their team score of 759 was best by 7 shots ahead of defending champs Villanova. Coming in third was St. Joseph's followed by Delaware B team, Rowan University, and St. Joseph's B team. This region is hoping to show the strength of Philly at Nationals.
Central
Playing conditions were tough in Kansas City, as only two players broke 80. Dylan Mozier and Luke Turner of Missouri placed first and second with 78 and 79 respectively. Chris Bernosky competed as an individual from Kansas University and finished third with 83. The Central Region will be well represented at Nationals by defending national champs Mizzou along with Saint Louis University making their National Championship debut.
Mountain
CU Boulder was the winning team with a 902 for the weekend and UNC was second with a 951. The Top 3 individuals were all from CU. Medalist was Ryan Crane (149), Second was Mike Spjeldet (153), and third was Thomas Magpiong (164).
This wraps  up the season for the Mountain region. Regional Coordinator Grant Vanek is very excited for next year and to continue growing this region in the future. Congrats to Boulder on their wins and the rest of the Mountain region for their efforts all season.
Indiana
Our newly formed Indiana region looks to be one of the most promising. Indiana, along with its nationally renowned Indiana Junior Golf program, is a great state for golf and its future growth. We believe this region will continually grow as well following this successful first season.
In the second regional, Notre Dame was able to beat out previous winner Purdue thanks to great play by Dan Weigandt and Jordan Milo. Wiegandt and Milo finished with totals of 152 following 36 holes, and Wiegnandt won the playoff giving him medalist honors. Anthony Zachman from Purdue was right behind them taking third place with 153. The final team scores for the weekend were ND 767, Purdue 784, BSU 883.
Texas
Traditional Texas powerhouses UT and Baylor were the first and second place finishers this weekend. Texas fired 369 - 385 for a total 754 just 5 shots ahead of Baylor with a 759. Individual play was very close as well. Tyler Bumpass (UT-Austin) and Jeremy Salas (Texas A&M) tied for first with a 146. Bumpass defeated Salas on the first sudden death playoff hole. Michael Culin (TCU) and Cory Pieper (GAA-Dallas) tied for 3rd once stroke back with 147's.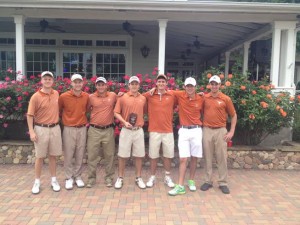 The Texas Region had a very exciting weekend with plenty of low scores, earning many teams and individuals their bid to nationals. With plenty of strong teams coming out of our region, including 4 of the top 7 nationally ranked teams, it should exciting to see how they fair at nationals. Team Qualified for Nationals: Baylor, GAA-Dallas, UT-Austin, TCU, Texas A&M
Northwest
In their first season in the NCCGA the Oregon Ducks have taken the Northwest Region by storm. This past weekend at Horn Rapids GC the ducks were a little worried after the first day due to strong winds and tough conditions, but were prepared come Sunday. Oregon was led by Daniel Chalmers and Kevin Mackin, both firing a weekend total of 160. With a tournament total of 804 and nationals only a week and a half away the Ducks have punched their ticket and are ready to make an impact at Bryan Park.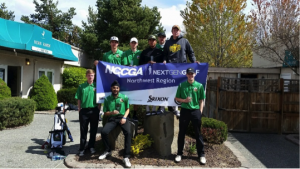 On Sunday Central Washington passed Idaho to take 2nd place. They were led by Medalist Wesley Boone who went out on Sunday and fired the tournament low 76.  Both Wesley and Chance Davis led Central Washington to a second place finish. The team finished the tournament by shooting 825 for the weekend. The region is proud to be represented by Oregon and see how they do at Nationals.
National Championship Sneak-peak
We are oh so close to the event we've been waiting for all season, the National Championship. In two weeks we will have over 300 NCCGA competitors, staff, and fans taking over Bryan Park. We have many events scheduled throughout the weekend, starting Friday, to make this the most interactive and exciting golf tournament you've ever played in. Make sure you and your teammates have all the proper information filled out to compete in this major tournament! See you at the #Battle4Bryan.
**Jack Stephens is the NCCGA Director of Communications. Tweet him @NCCGABlog