In the fall 2014 season, the NCCGA will be launching its much anticipated #ReadyGolf campaign. After reviewing feedback from dozens of club golfers who claimed the pace of play was not acceptable, the organization aimed not just to improve the pace of play at NCCGA Regional Tournaments, but to expose a critical reason why many young golfers lose interest in the sport: slow play.
Three of the 27 NCCGA Regional Coordinators weighed in on what #ReadyGolf meant to them:
Sean Keane, NCCGA Capitol Regional Coordinator
Don't be the reason your group is playing behind pace. Here's 4 ways to play #ReadyGolf: http://t.co/grFmhLwYxp

— NCCGA Capitol (@NCCGACapitol) September 23, 2014
To me #ReadyGolf is designed to enhance the game of golf so that players do not have to deal with some of the slow play has plagued tournaments over the past few years. I think it is important for a round of golf to last no more than five hours in a tournament. Some players feel as though they need an in depth pre-shot routine in order to get themselves prepped. That's not necessarily the problem though.
My favorite effort to reduce play time that I've seen around public courses is as follows. On several tees, they have put up signs that say "15 seconds of delay per player per hole adds 18 minutes to your round." A majority of the time wasted on a golf course comes from conversations that extend into the next shot. If we were able to put conversations on pause more often to make play flow better, we would have a tremendous impact on pace of play and #ReadyGolf would be a successful endeavor.
Laura Kanouse, NCCGA Florida Regional Coordinator
RT if you've ever duffed a tee-shot after waiting on the group in front of you to clear the fairway. #ReadyGolf http://t.co/U96wPrHIOa

— NCCGA Florida (@NCCGAFlorida) September 6, 2014
I think every golfer would agree that there is nothing worse than slow play. It doesn't matter if its a slow group in front of me or a slow player in my group, something about waiting really messes me up. Some tips I would suggest to play #ReadyGolf...
Hit when you're ready, regardless of who is furthest out.
Start walking to your next hole when you're done (without making too much noise).
Try to do continuous putting.
I think a lot of time is wasted on the greens for putts that you probably won't make no matter how long you take to read it. With these changes, I think that rounds should be no more than four and half hours. Also, all players should be aware of the pace of play but should never feel rushed.
Brian Miller, NCCGA Great Lakes Regional Coordinator
When someone in your group takes 10 practice swings... #ReadyGolf #Rory #WHILEWEREYOUNG pic.twitter.com/42HUrXSmcj

— NCCGA Great Lakes (@NCCGAGreatLakes) September 23, 2014
To me, #ReadyGolf is fun golf. Part of tournament play in golf is using "honors" where the teeing order depends on your score or position on the hole. While this is a standard courtesy in golf, there is no need for it to leak into a casual golfer's round. Some people like going first, some people take a little longer to hit their shot, but #ReadyGolf allows people to play at their pace without it slowing down their group or the group behind them.
Pace of play in the NCCGA is inevitably going to be a challenge for three reasons:
It's tournament golf, so every shot matters, and people will take longer by not picking up on bad holes and by putting all their short putts.
The range of skill in the NCCGA is wide, so the poorer players will slow down the pace.
In my region at least, the tournaments tend to take place in inclement weather, which always leads to longer rounds.
Still need help? Check out our sponsor GolfBuddy who offers some awesome technology helping improve pace of play.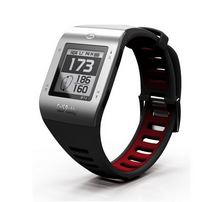 I am excited about the campaign we are launching because it threatens to give out penalty strokes for slow play. My only concerns are how volunteers will be able to keep their eye on the whole field and the potential for players in a group to be penalized for another player's lost balls.