The Michigan State college golf club team was left to wait after falling short in the second Midwest Regional tournament of the Spring 2015 season. Michigan had bested them by 20 strokes to earn the tiebreaker and receive the region's automatic bid to Nationals.
This meant the Spartans needed a wildcard spot to attend Nationals. Individual Josh Heinze qualified on his own as an individual, but was not going to accept the invitation unless his team was able to go as a wildcard.
Luckily for both of them the wildcard invitation came shortly after, and Heinze made the most of it. The junior shot a 143 (71-72) at Bryan Park, one shot better than the rest of the field. The victory earned Heinze the red jacket, a new NCCGA tradition.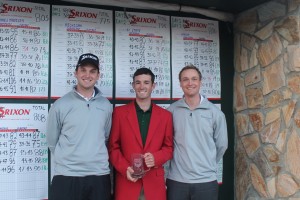 "It took a while for things to set in for me. After I finished I was solely focused on how our team was going to finish up because we were pretty close to the top of the leaderboard after 9 holes," Heinze said. "Once all of the guys came in and kept telling me that I had it won, things really started to set in. It was a great feeling to pull off the win and win it in the way that I did."
Heinze was followed closely by Sam Hall (Baylor), Matt Barth (Clemson), Michael Culin (TCU), and Parker Dudley (GAA-Myrtle Beach).
Though he did not know it at the time, Heinze stepped onto the 18th tee tied for the lead. He hit his second shot to within 15-feet, and sank the putt for a 1-under weekend.
"I had a feeling that things were getting pretty close at the end. I've been in contention for big tournaments such as this one quite a bit lately and being in similar situations before definitely helped," he said. "At the time I didn't think that one under was going to be enough to win the tournament. The conditions were tough but I figured somebody else went low and jumped me, so to find out I had the lowest score coming in was definitely a great feeling."
Start playing club golf this Fall
Heinze credits his team's location with being able to endure the tough weather in North Carolina. The Midwest Region encountered bitter cold temperatures, and even snow, at their regional tournaments. The rain and 40-degree weather were part of the routine.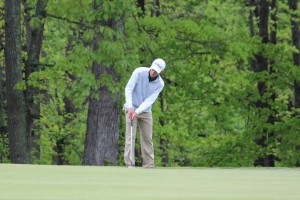 Heinze attended high school in Michigan, and spent his first two years of college on the varsity golf team at Eastern Michigan University. He transferred to Michigan State before his junior year because EMU did not have his major of Civil Engineering. He had some friends on the club team at Michigan State, and thought it would be a great way to stay competitive and hopefully work his way on to the varsity team.
"I'm hoping that my play from last fall and winning this weekend will be enough to get me onto the varsity team so I can return to the Division 1 level," he said. "However, if this doesn't work out I will be playing club golf again next fall. Playing club is a great way to meet people, have a blast, and stay competitive and I have enjoyed it ever since I joined the MSU club team."
If he earns his way on to the varsity roster, he will become the third straight NCCGA Nationals medalist to play varsity golf the next semester. Either way, Heinze will have the distinct honor of passing on the red jacket to the Fall 2015 individual medalist, and helping continue the tradition.
**Travis Richardson is a Zone Manager for the NCCGA, working with students to help start club golf teams in California and the Southeastern United States. Contact Travis on Twitter @travis_richson