In its first semester of college golf competition, the Auburn club team had its ups and downs. The club struggled in regional #1 (finishing 6th), but roared back from a 15-stroke deficit to win regional #2. While the performance did not earn the club a spot in the 2014 NCCGA National Championship, Chase Hawthorne and Marshall Brown both qualified as individuals.
Did you play golf in high school?
Chase: Yes, I played high school golf in Austin, TX and won an individual state championship my Sophomore year, and actually finished runner-up twice, with one third place finish my senior year. I also played on other tours such as the AJGA, Legends Jr Tour, and TJGT.
Marshall: Yes, I played golf at Fairhope High School my junior and senior years. I couldn't have asked for a better group of guys to practice and compete with, and our coach made our team that much better.
What led you to the college golf club team at Auburn?
Chase: I had a few offers to play college golf but having gone to a small high school, I wanted to go to a bigger school and ended up choosing Auburn simply because my father and brother both graduated from there. After a year of not playing competitive golf, I was thrilled when our President Josh Rollins told me he was starting the (club) team. This gave me the opportunity to play competitive golf without having to commit a large amount of time to it.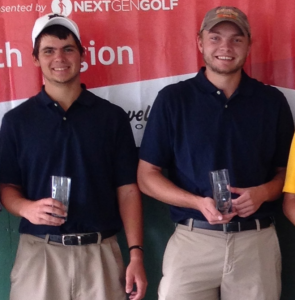 Marshall: My love of competition led me to playing club golf. Eventually (I am) planning to walk on to a college golf varsity team, I knew that playing in tournaments would be a way to get my name out there. I'm hoping that in the next few semesters, I can use my results from the NCCGA to show college coaches what I am capable of.
How was your experience in Auburn's first semester of competing?
Chase: My first semester was a great experience. Josh and I have been getting the word around campus and we think Auburn is about to be a strong force in the South Region. We currently have 16 in the club and have qualifiers to determine our travel team. We have all become really great friends and enjoy playing the game together.
Marshall: My experience in Auburn's first semester of club golf was incredible. We had a great group of guys and I can't wait for the upcoming semesters where we can really show the competitiveness of our team.
Ready to get your school involved?
What are your goals and expectations for Nationals?
Chase: I cannot wait to play the courses this weekend. It looks like the courses will be playing short which means there are birdies to have, and scores are going to be lower. I plan to fire at least one low number, as long as I can keep hitting fairways and get off to a strong start.
Marshall: My goals for Nationals is to commit to every shot I hit. I'm gonna try to focus more on my level of commitment rather than the results.
How's the Auburn club golf team gonna be in the spring?
Marshall: I don't want to set the expectations too high, but our club golf team should be much more competitive next semester. There are a couple of guys that either didn't know about it or were too busy this semester, so it will be exciting to see how they help the team in the future.
 **Travis Richardson is a Zone Manager for the NCCGA, working with students to help start club golf teams in California and the Southeastern United States. Contact Travis on Twitter @travis_richson