You cannot beat fall golf in New England especially when playing a beautiful course out in the mountains of Western Massachusetts, a hot spot for leaf peepers. The course was tough, competition was strong and weather was perfect for the second New England Regional event at Cold Spring Country Club in Belchertown, MA. The heavy favorite, Providence College secured their first trip to Nationals.
The team from Providence College came to play this weekend despite the difficult course conditions. A heavy favorite in the region, the PC Team took 5 of the top 8 spots to earn their first trip to the NCCGA National Championship. This team has depth and always seems to pull out a solid top 5 scores. Coach John Conley said, "We are really excited and proud to be heading down to Myrtle Beach representing the New England region."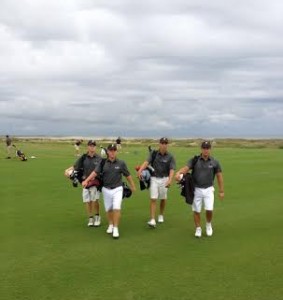 Beyond the  strong team performance from PC, the Babson College team came to play this weekend led by Josh Biren (individual medalist) and Eric Sedransk (3rd place). The Babson team is looking for revenge this spring in the New England region and was proud to take 2nd place after a 4th place finish in the first regional event. Rounding out the field was the University of Massachusetts and Bentley College. This was the first tournament for the Umass team this fall. Team leader John McBride said "it is great to be out here competing and representing our school." Due to Title XI regulations, Umass no longer has a men's varsity golf program. With over 20,000 students attending Umass, this is the team to look out for this spring in the NCCGA.
 Cold Spring Country Club is a beautiful course located in Belchertown, MA. Although the course only measured just over 6600 yards, it is a par 71 track and plays all of 6600. An uphill 460 yard par 4 followed by a 260 yard par 3 says it all. Given this was the first time many students have played the course, day 1 was a real challenge given the course has many hills, narrow fairways and firm greens. Cold Spring has only been open for a couple years and is a real gem for the price out in Western, MA. Pictures of the course and the event can be found on NCCGA Facebook Page.
Good luck to the Providence Team in a few weeks. Given I am a New Englander, I am rooting for the home teams in Nationals! #RoadToMyrtle