The NCCGA National Championship is known for strong team competition. This weekend will be no different especially with the University of Florida and Golf Academy of America-Carlsbad in the field. Now you can get to know their teams a little bit better
Powerhouse Florida Continues To Make Big Moves
Florida has a special place in my heart as I co-founded the UF Club Golf Team and was President last fall. The team is only getting better and better, and it is no surprise to me that they are 3 for 3 for NCCGA National Championship bids. I recently had the privilege of interviewing Blake Herschberger, the current president of the University of Florida Club Golf Team.
Q: Florida has been 3/3 for NCCGA National Championship bids. What do you think is the main factor that contributes to Florida's success?
The good weather and the size of the school.
 Q: How has #ClubGolf helped Laura Kanouse snag a spot on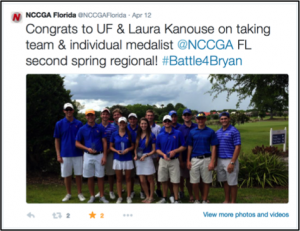 Florida's D1 Varsity golf team?
#ClubGolf has given Laura an opportunity to shine and form a good reputation for her to succeed in larger tournaments. The UF Women's varsity coaches were able to see her talent and wanted Laura on the team.
Laura has proved to everyone that it is possible to move from a school's club golf team to the varsity team via hard work and dedication.
Blake says that the team will be significantly different next year without Laura as she has played a large role in both starting the UF Club Golf team, being one of the best players on the team and getting the club to where it is now.
 Q: With a second place finish at the previous Nationals, how do you think Florida will do at #Battle4Bryan?
The UF Club Team has full intentions of placing first at #Battle4Bryan. The team views this tournament as champion or bust.
Q: How does Florida feel about the increased number of teams and competition in the Florida region?
Florida has dominated both the Spring 14 and Fall 14 regional tournaments, and now with increased competition this past semester, Florida has to play each tournament at a time and not take their wins for granted.
Q: How will the team look next semester?
As of now, the only two players Florida is going to lose are A-Team golfers Sean Williams and Laura Kanouse. Despite this, Florida is very confident about Fall 2015. With such a large and young team, there are plenty of spots to be filled.
Golf Academy of America-Carlsbad Ready to Compete Cross-Country at NCCGA National Championship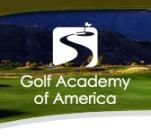 This season we will be having 3 Golf  Academy of America schools competing in the NCCGA Championship for the first time ever. The Golf  Academy of America is a  two year college intended to help educate and train students to get jobs in the golf industry. The students will graduate in two years with an Associates degree and can pursue careers in many aspects of golf. Around the country there are five Golf Academy of America  campuses, and they all offer the same programs to  their students.
To learn more about the Golf Academy of America - ­Carlsbad specifically, we reached out to Club Coach and Academic Dean, Steve Kaese.
Q: How did you get involved in the NCCGA?
The Golf Academy of America ­Dallas campus was the first to compete in the NCCGA last fall, and we learned of the organization through them. This is our first season competing.  We've enjoyed meeting the teams and getting to know the NCCGA organization.
Q: Is this the first time your students have played competitively
against other schools?
Yes this is the first time we've played as a team. Part of the curriculum and tuition for the Academy is the students get to play in weekly tournaments. Those tournaments are  coordinated and run by the students to help them learn how to set up and host a well-­run tournament. So each week they get to play against each other, but this is the first time they get to compete on a team against other schools.
Q: The Golf Academy of America obviously appeals to people of all ages. What is the age of players playing for your team this season?
Our team ranges from players 19 years old to players in their 40s. That is  an impressive part of  playing club golf. It gets together an interesting group of  golfers and it's been fun watching them gel throughout the season.  Our golfers competed to play in the NCCGA tournaments for several weeks and we are bringing our "A" game.
Q: Does coming from Golf Academy of America  give you a leg up on the field?
I don't think so.   Golf Academy of America is focused on the education and training of people who want to work in the industry.  Our goal is to improve the student's game as well as their opportunities in their careers.  I think we're just like every other college club team when it comes to playing experiences.
Q: What's the team looking forward to about Nationals?
The competition. That's the main reason the students have enjoyed the NCCGA so much is they can compete against other colleges.  Use the skills they've developed each week in tournament play and open play and through hundreds of hours of directed practice. We're looking forward to going out and winning.
Carlsbad will be making the long trek to Bryan Park Wednesday and will be around Thursday through Sunday for practice rounds and the tournament. Good luck to both the University of Florida and the Golf Academy as they participate in the NCCGA National Championship #Battle4Bryan.
***Brandon Harrold is the 2015 NCCGA President. Feel free to contact him at president@nccga.org or on twitter @NCCGAPresident.