After the first two majors of 2015 the billboard outside an old-timey movie theater in St. Andrews should probably read: Welcome To The Jordan Speith Show! Who would argue with those words in lights after Speith captured wins in Augusta and Tacoma? Probably only Jordan who with his humble, wise-beyond-his-years nature would seemingly prefer not to draw attention to himself. Which is kind of tough to do when you just keep winning. A problem all professional golfers probably wish they had.
To put in perspective how well he's playing here are his last 16 rounds starting from the Byron Nelson Championship: 69, 64, 68, 69, 68, 70, 72, 65, 68, 67, 71, 69, 71, 64, 61, 68. For a scoring average of 67.75.  In the words of Larry David, "pretty, pretty, prettty goood".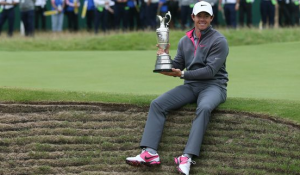 So, what's not to love about him this week at 'The Home of Golf'? In my estimation nothing other than the law of averages, people assuming three majors in a row can't be done, anymore, and (among the sillier reasons) jetlag. But if we have learned anything, it's time to stop doubting Jordan can do something. If he doesn't win, I think he's going to be in the Top 10.
Another thing I love about all of golf's major championships is the fact they all have their own personality. And nothing has more flavor than an Open Championship at St. Andrews. You just get a picture of Old Tom Morris wearing a tweed jacket, smoking a pipe next to crackling fire while drinking scotch...or maybe that's just me.
I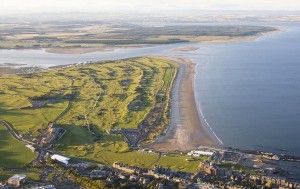 love getting up early on the weekends and starting my days by laying on the couch watching golf and listening to the dulcet tones of Peter Alliss. I love the fact that they occasionally play in gawdawful weather. I love seeing tons of bunkers that are more than 6 feet deep and make the best players in the world hit sideways or (gasp!) backwards. I love seeing multiple putts from over 60' drained from on or off the greens. And I love the history of the course and the feeling that anything can happen just with a change in the wind direction.
As for the course this year, it's the granddaddy of them all (sorry, Keith Jackson): The Old Course at St. Andrews. Here are some fast/fun facts about the Home of Golf:
Founded in 1552...that is WAY before you were born.
Course record: 62
Hosted the Open 28 times and currently hosts every 5 years (years ending in 0 or 5)
Course has seven double greens. Only holes 1, 9, 17, and 18 have their own green complex
The Old Course is reversible and was reversed every week in order to let the grass recover
The Swilcan Bridge crosses the burn/creek running across and through the 1st and 18th holes. It also happens to be 700+ years old
There are 112 bunkers on the course; each with their own name! (If you find a list with all their names, I'll buy you a Guinness)
So, for all you fantasy golf nerds wanting to know who's going to win this year, I'll give you a few names on my radar for the 2015 Open Championship.
Jordan Speith - because he's playing better golf than just about anyone right now.
Dustin Johnson - would be pretty sweet redemption after a crushing loss at the U.S. Open.
Louis Oosthuizen - won it the last time it was at St. Andrews, happens to be playing well, and he travels with his own custom-made bed!
Justin Rose - requisite European, playing great, feels like it could be his time.
Rickie Fowler - would be a heck of a place to win your first major, right?
Aaaand, fun fact: since 1964 when The Old Course has hosted The Open, an American has won six out of nine times.
Enjoy the 2015 Open!
**Ethan Zimman is the Nextgen City Tour Director of Media and Campaigns. Reach him via email atNextgenWashDC@gmail.com.