To preface this article, I am probably the worst person to be writing a fashion article given my lack of fashion sense and old school style. Either way, while running Nextgengolf over the last couple years, I have noticed how much young adults love golf socks! Being someone who wears the short ankle socks, and sometimes no socks at all, I did a little bit of research into the golf sock market and below are a few things I learned.
Will you join the herd and start wearing crazy golf socks? Regardless of your sock preference, my guess is you will start to notice golf socks more and more as a fashion accessory on the course.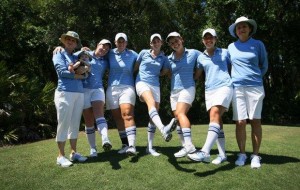 Tube socks – Really? I thought these were just for dads. Tube socks are a growing fashion statement on the course and on campus. It is shocking to me how many students are wearing these high fliers on the course. Maybe LeBron taking a few swings set the trend. My suggestion for getting tube socks is going to the local Dicks Sporting Goods or Marshalls. Dad's should feel proud that the socks they have been wearing for years are now cool again.
Wild and crazy socks – When you start to see a lot of people wearing socks like this, it is hard not to take notice. Although I think some of the styles and patterns are ridiculous, I gotta admit I went out and purchased a pair of Stance Golf Socks and they are the most comfortable socks I have ever worn (yes I did buy the smaller ankle socks!). I think more and more young adults will start wearing socks like these as a fashion statement similar to a hat. Companies like Stance that provide stylish, high quality performance socks should be ready for the trend!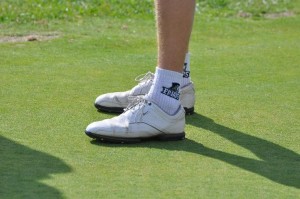 Custom logo socks – I gotta admit these socks are pretty cool. As you can see in the picture, one of our players from Providence College was wearing some custom logo Friars socks at an NCCGA tournament last year. Getting a Bryant Bulldog golf sock is not on the top of my list, but the idea or sporting a team, important cause, or cool logo on your socks is pretty interesting to me. We found this company called Fanatics which makes custom logo socks for a number of big colleges. To get custom logo socks for your alma mater, I would recommend looking online (especially for larger schools) or going directly to the school bookstore for smaller colleges.
Do you wear crazy socks on the course? Send us a picture and tag Nextgengolfclub on Instagram.
Nextgengolf can't help you get any deals on socks (yet), but if you are looking for deals on some of the best golf apparel in the industry, Nextgengolf gets 30-70% from Oxford Golf and State Traditions.
**Kris Hart is the CEO of Nextgengolf, and frequently wears the no-socks and slippers look in the office. Contact him on Twitter @collegegolfguy.