Those of you who have been following golf this year know about Patrick Reed. He is an up and coming player who has won three tournaments in the past year alone.
A player that has skyrocketed up the World Rankings at a rate that rivals even Jordan Spieth's rise to stardom. Reed has moved all the way in to the 20th position in the World Rankings with his recent win in the WGC-Cadillac World Golf Championship at Doral. There is no questioning that Reed is a stellar player but he acts as if, based on his accomplishments, he is the prodigy child who is destined to become the next Tiger. "I just don't see a lot of guys that have done that, besides Tiger Woods, of course, and, you know, the other legends of the game. It's just one of those things, I believe in myself and – especially with how hard I've worked – I'm one of the top five players in the world." You might think this statement is a little over the top, but it might not be a bad idea to have a Patrick Reed attitude on the course.
Do you believe you deserve that 1st place trophy? If you don't, you are not going to get to admire its fine craftsmanship from the comfort of your living room. I know you have heard it a thousand times before, "you got to think you're the best to be the best." But I doubt you actually take this advice as seriously as you should.
There is a thing called 'swagger' that radiates off a person who thinks in this manner. It can be demonstrated through the way he eyes his competitors down, walks to the next hole, or steps up to hit a difficult shot. You can spot it from a mile away. And there is no doubt in my mind that Patrick Reed has 'swagger'. That is what it takes to win a championship when everyone expects you to buckle under the pressure. When his ball found the bunker or ended up off the green, he remained unfazed. If you look back on his final round at Doral, he didn't hit the ball particularly well. His final round was certainly no walk in the park. He had to battle to make pars all day long. And a player has to have more than ability to keep things from falling apart when things go awry; he has to have 'swagger'.
Try implementing this way of thinking into your own game by starting with practice. You heard Patrick Reed mention that he believes in himself, especially because of how much he has practiced. This means you have to practice everything. Know that there is not a shot out there that will require you to set up for something completely new. Once you do this, start developing your mindset. I don't think it's a bad idea to even think that you are a top 5 player in the world. Visualize back to when you successfully pulled off the shot in practice and just let it fly. Expect great things to happen and you just might end up making that putt for birdie.
Having said all this, no one likes a guy who brags. Listing off every accomplishment you have ever had and comparing yourself to Tiger is probably not the best way to become a likeable player. There is no problem with thinking this way after you miraculously pull off a birdie on the number one handicap hole, but you should keep those thoughts to yourself. Play with 'swagger', take it low, and let others start talking about you. If some ESPN analyst would have said that Reed was a top 5 player in the world at the moment, people may have begun believing it. Coming from his own mouth, though, makes Reed sound full of himself and completely overrated. Nobody, now, thinks that Reed is a top 5 player. All because he didn't let actions speak louder than words. So just wait till you are on the course the next time you are pondering saying something along the lines of "My short game has been real Phil-esque of late." You will be amazed by the reaction when your practice pays off and you start working magic around the green.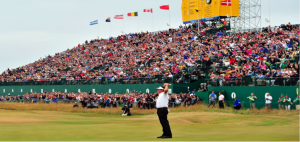 ***Connect with Wesley Long on Twitter @RealWesleyLong.