Congratulations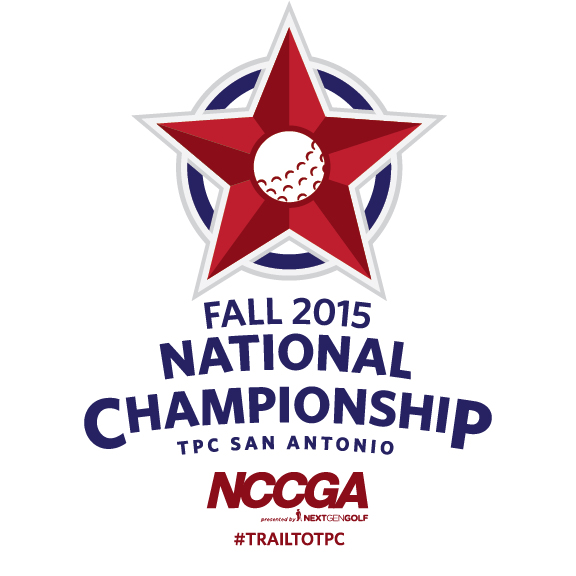 Tournament Details
What you need to do
Fill out tournament information form
Book your travel (flying or driving)?

If you are flying, it is highly recommended not to book flights Sunday night before 8pm CST.  Tee times on Sunday are strictly based on Saturday performance.  Weather or other delays could cause a delay in awards ceremony, please plan accordingly.
San Antonio – 14.1 miles to golf course (21 mins)
Austin – 75.8 miles to golf course (1 hour 21 mins)
Transportation - If flying into San Antonio, you will NOT need to rent a car. There is a complimentary shuttle from the airport to the hotel (based on availability).
If you need to rent a car, CarRentals.com is the best and cheapest option for cars. For travel outside of the hotel and golf course, Uber is available in San Antonio. If you've never used Uber before, use the code "NCCGA15" to earn a free ride (up to $20).

Pay your tournament entry fees as indicated on your invoice

All tournament invoices will be in your Nextgengolf Team Portal. All invoice questions, contact our team.
Travis Richardson 316-208-5276.

Make sure all of your team members complete your NCCGA Profile by November 10th at noon. This includes profile photo, phone number, and social media handles.
Review general tournament info and schedule
Share your story about making it to Nationals - Email Champ@nccga.org
Cost and Details
$355 per player for teams of 8 which includes the following
Championship Rounds Saturday and Sunday

1 round at the Oaks course and 1 round at the Canyons course

2 rooms, 2 nights of lodging at the Holiday Inn (19280 Redland Road, San Antonio, TX 78259)
Breakfast and lunch on Saturday and Sunday
Transportation shuttle to and from the San Antonio airport and golf course
Tournament gift bag including: Custom National Championship PlayKleen towel, Srixon Z-STAR premium balls, Srixon NCCGA Tour hat, custom Nationals bag tag, custom koozie & more
Awards and prizes
Driving Range demo night & contests
Cleveland Golf Skills Challenge
Tournament costs are inclusive of resort fees, gratuities & State Taxes
Additional rooms and/or nights of lodging are available for $110 per room. Limited rooms are available for parents/coaches.
Hotel Address: Holiday Inn, N San Antonio - Stone Oak.  19280 Redland Road.  San Antonio, TX 78259
Course Addresses: TPC San Antonio, 23808 Resort Pkwy, San Antonio, TX 78261
Not Included
Practice rounds are not included in the individual tournament fees. Practice rounds have been negotiated down to a fee of $75 plus tax with cart.  Practice rounds can be booked by calling Sorrel Peterson at 210-491-5812 and mentioning the NCCGA practice round for the National Championship. Very limited spots are available, so call sooner rather than later to reserve a spot. Lodging for parents/coaches or lodging for Wednesday, Thursday, or Sunday night is not included in the tournament fee. There is limited lodging available for parents and coaches at the Holiday Inn.
National Championship T-shirts are available for $15 (image here). Ask Travis if you are interested. Shirts must be pre-ordered, and will be delivered at the championship.
If you are bringing less than 8 players, contact your Zone Manager for pricing.
Preliminary Tournament Schedule
Wednesday-Friday- Team arrival and practice rounds.Practice rounds have been negotiated down to a fee of $75  plus tax which includes cart ($259 normal rate).  Practice rounds can be booked by calling Sorrel Peterson at 210-491-5812 and mentioning the NCCGA practice round for the National Championship.  Individuals may purchase range balls for $10 per player Wednesday through Friday (range balls are included if you play a practice round).
Friday

3-6M - Individual and team gift bag distribution.  Demo night sponsored by Cleveland Golf & Srixon

Saturday

7:00am - Team Registration begins at TPC San Antonio
7:00am - Driving range, putting green, and all practice facilities open for all participants
8:00am - Championship Round 1 Tee Times begin

Sunday

7:00am - Driving range, putting green, and all practice facilities open for all participants
8:00am - Championship Round 2 Tee Times begin
3-4pm* - Awards ceremony, post round press coverage, pictures, and interviews
* If you are flying, it is recommended not to book flights Sunday before 8pm. All Sunday tee times are based on Saturday performance (no exceptions will be made and the top teams will be in the final groups) and any weather delays could result in a later finishing time.  Any groups needing to leave early will receive double par for any unfinished holes.
*Awards ceremony will take place as soon as all playoffs have completed