Yes, sports fans, it's Game Week.
And I'm not talking about your school's football team (perhaps the better phrase to use is Tournament Week). That means nearly 1,000 of you crazy kids are going to be heading off to different parts of the country, enjoying some of the Golf God's greatest gems and basking in the camaraderie of some of your closest teammates and fiercest competitors—I'm talking to you, Texas Region!
For some, this weekend is just a matter of getting back into the flow of the club golf experience. But for others—cough, cough…FRESHMEN—it's the beginning of the adventure that is NCCGA golf. Either way, it is all for fun and fun for all…who come prepared for the weekend festivities. With that being said, here's a few tidbits to keep in your back pocket as club presidents and competitors plan for this weekend and the months ahead:
1. Don't book just any hotel, trust me…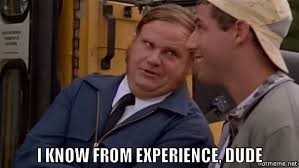 As a former club president, I found out the hard way. Safe to say, we've been less than impressed with some of the "facilities" the Virginia Tech Club Golf team called home for the weekend. My advice: pay a few extra bucks; book you a hotel that doesn't cost less than a dozen Pro-V1s per night. Find you a place your momma would approve of—heck, I've even referred to "Mother Goose" for approval. At the end of the day, trying to sleep with "one eye open" isn't exactly easy for us mortals. If they serve free breakfast, it's a win-win.
P.S. If a tournament is near your hometown/parent's house, be a guy/gal and offer up your place for a night or two. There's nothing better than coming home after a whopping opening-round 94 than to a home-cooked meal. Shoot, have the team pitch in a few bucks for food or to buy the folks a thank you gift. I'm sure they'd love just having you home for the weekend.
2. You cannot overpack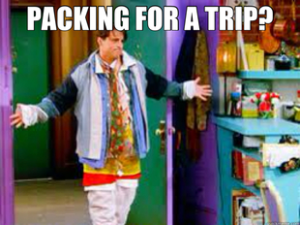 I don't care if you look like Joey. Pack prepared. Weathermen are wrong, a lot. At Nationals my senior year, the only different between the first and second rounds were 30 degrees, 20 mph of wind, and—oh, yeah—rain.
What to pack:
3 to 4 pairs of underwear (you never know when one of your "friends" may toss you in a hotel pool just for fun)
3 pairs of socks
2 pairs of golf pants/shorts (weather dependent)
3 golf shirts (one per day and an extra for your buddy who didn't read this blog post)
Pullover/sweater (unless you live in Texas, Florida, or other hot-as-hell states…I'll let it pass)
Pair of casual shorts/jeans
T-shirt, golf shirt, casual wear, etc.
Belt
Bathing suit (if necessary)
Golf shoes
Weather gear
Hat(s)
Toiletries
And, of course, golf gear! (Clubs, ball, gloves, umbrella, etc.)
3. Leave early & have a plan
Your regional coordinators should pass along the weekend plans and Saturday tee times well in advance.
If you are carpooling, establish a place to meet and an ETD. Give yourself plenty of time to stop for food, fuel, and bathroom breaks.
Whether starts are shotgun or tee time, get there at least an hour ahead of time to warm up and check in with RC's for paperwork and to go over rules.
Establish a several lunch/dinner options that are close to the course and/or hotel. If you're looking to watch football Saturday night, look up a few sports bars in the area that will have TVs.

REMINDER: Chick-fil-A is closed on Sundays!
For me, Club Golf events were the highlights of my time as an undergrad. I was fortunate to have been around great presidents and club officers at Virginia Tech that had us well prepared for tournament weekends. At the end of it all, always remember to thank your Club President, Regional Coordinator, and, most importantly, the host course staff, for their commended efforts in making these events happen.
**Austin Dillard is a former NCCGA Club President