Timber Banks was the location for the second NCCGA Northeast Regional tournament of the fall semester, and presented most likely the toughest test the players from this region has seen in a long time.  The conditions the first day were not ideal with 45 degree weather and about 8mph wind.  Sean Barron of SUNY Brockport and Alex Rosato of SUNY Cortland went in to the second round tied at 77. They were followed closely by John Smagala with a 79 as well as Chris Carlson and Alexander Brown with 80.
SUNY Cortland got off to a hot start in round one, putting up a team score of 400 to hold a 33-stroke lead going into Sunday. Three of the top five individuals after day one were Cortland students: Rosato, Smagala, and Carlson. Syracuse club golf sat in second place at 433, followed closely by Buffalo, Niagara, and SUNY ESF.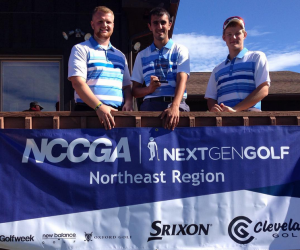 The second day had much better weather conditions, but the scores did not reflect it.  The greens had large angulations and the pin locations proved to be difficult.  Garrett Brown of Buffalo was the low man for the second day, carding a 76. Sean Barron held on to the individual medalist honors with a 2-day total of 157.
SUNY Cortland rolled to a victory in the tournament, finished with a 2-day team score of 813. Syracuse came in second at 861, narrowly edging out Buffalo's 864. The victory secured a National Championship invitation for the Red Dragons, their second trip in the past three club golf semesters.
**Alex Rosato is the NCCGA Northeast Regional Coordinator, and President of the SUNY Cortland club golf team.